Explore Limerick City
The medieval city of Limerick has historical landmarks around every corner, but you can also sample local delicacies, take a digital tour of its past and discover why rugby is like a religion around these parts.
King John's Castle
It's easy to imagine what King John's Castle would have been like in its heyday as you walk around fortifications and rooms that remain relatively unchanged, even after centuries. Costumed characters tell stories and interact with visitors of all ages in a fun and engaging way. 
High tech additions like CGI animation, interactive touchscreens and ghostly projections really bring the story of this 13th Century castle to life. It's a perfect way to engage the iPad generation with the past and an immersive experience that your kids won't forget.
Thomond Park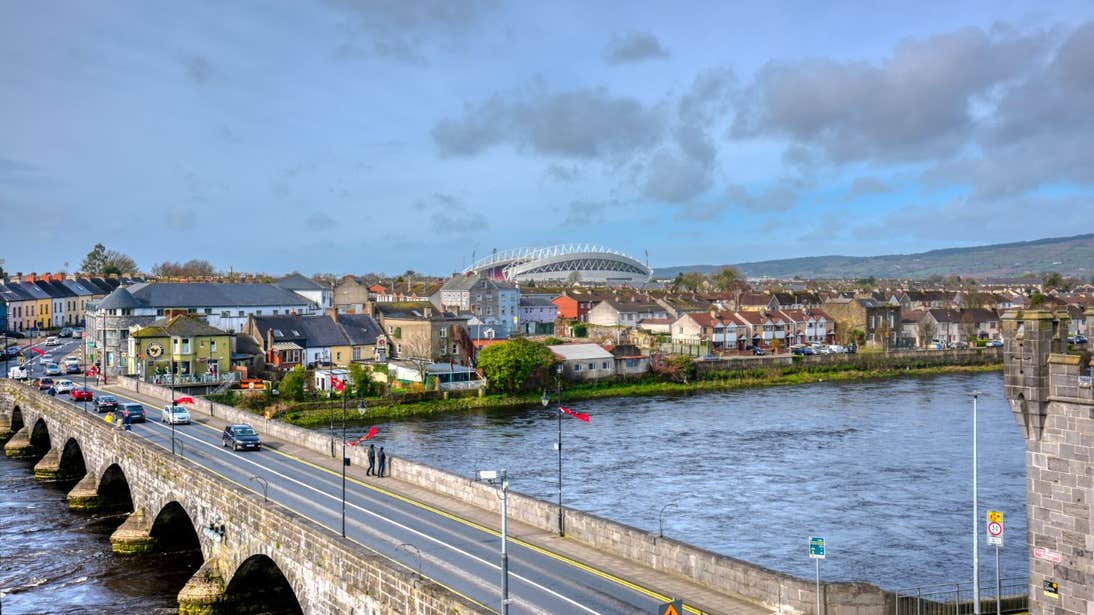 Go behind the scenes of Munster rugby with a tour of the famous Thomond Park stadium, that any young sports fan will love. See what it's like to walk the tunnel, visit the changing rooms and sit in the Munster dugout. 
The interactive museum delves into Munster's proud history and relives iconic moments like that infamous win against the All Blacks in 1978. Of course, the best way to experience this stadium is to take the family to a match and enjoy the 'Munster roar' first-hand.
The Living Bridge
Take a stroll across Ireland's longest pedestrian bridge and walk from Co. Limerick into Co. Clare. This impressive 350m Living Bridge links the University of Limerick buildings on either side of the Shannon River.
The People's Park 
An oasis of calm in the middle of Limerick City, The People's Park is a great place for a picnic and some family fun. There's a playground for children under ten, two shelters, a large selection of deciduous and evergreen trees, and plenty of room for active kids to stretch their legs. 
Milk Market
Ireland's oldest weekly market, the Milk Market has everything from artisan food to vintage clothes and antiques, depending on the day you go. Open from Friday to Sunday, the market is a buzzing hub where you could easily enjoy a couple of hours. 
Kids are fascinated by the likes of crubeens, or pigs' feet on display at the artisan butchers and excited by the various sweet treats and confections on offer. Make sure to pick up some local delicacies to take home. 
Cornstore Wine Bar and Restaurant
A stylish restaurant specialising in premium steaks and fresh seafood with a focus on seasonal, organic produce, the kids menu at Cornstore Wine Bar and Restaurant is also stacked with healthier alternatives to chicken nuggets or fish fingers. And the little ones even get a colouring page to keep them amused as you eat.  
Sinergie, Clarion Hotel
If you like your food with a side of scenery, Sinergie restaurant has amazing views of the River Shannon and is very family friendly. Enjoy fresh, seasonal food and exciting flavours, with a great kids' menu and baby changing facilities if you need them.  
Visit Limerick County
Leave the city behind and get out into the country to take in some breathtaking views, explore ancient Irish settlements and find out whether you could have made it as a transatlantic pilot. 
Lough Gur
The area surrounding Lough Gur is steeped in mystery and legend, with the King of the Fairies said to live on the Hill of Knockadoon. It's a gorgeous place to explore, with lots of walking trails to choose from and prehistoric tombs, standing stones and the dramatic Grange Stone Circle provide evidence of former settlements. 
A visit to the crannog-shaped Lough Gur Visitor Centre is a must, with its interactive exhibitions and displays telling the story of one of the country's most interesting places.
Stonehall Visitor Farm
A trip to Stonehall Visitor Farm in Limerick gives the little ones a chance to meet unusual animals like llamas, alpacas, wallabies, ostriches, birds of prey and meerkats. The indoor area also has chipmunks, chinchillas, parrots and more. 
Take a walk on the nature trail and you might even catch a glimpse of native species like the elusive red squirrel. The kids can also have a shot on the go karts, tractors or the bouncing castle in the farm's play area.
Curraghchase Forest Park 
Another enchanting outdoor attraction in Limerick is the 313-hectare Curraghchase Forest Park, a former estate that's now home to several special areas of conservation. With multi-access trails designed to cater to young children, there are some lovely walks to explore but it also has a children's playground, picnic areas and barbecue facilities. 
Foynes Flying Boat Maritime Museum 
Foynes was once an important hub in the development of transatlantic passenger flight and the museum there reveals the important role it played in linking Europe to America. Board a life size replica of a Boeing 314 Flying Boat and discover more about this pioneering time from its intriguing exhibits. 
The museum also pays tribute to Maureen O'Hara, who famously landed in Foynes in a flying boat, and it even hosts her honorary Oscar. Aspiring pilots can have a go on one of the flight simulators.
Restaurant 1826
A beautiful restaurant in "Ireland's prettiest village," Restaurant 1826 is the perfect spot to grab a meal and have a quick look at the charming heritage village of Adare. Set in a traditional thatched building, it's one to visit if you're in the area.
If you have more time in Limerick…
Ballyhoura Mountain Bike Trails
Active families after some adventure can try off-road cycling on the Ballyhoura Mountain Bike Trails. Take your pick from tricky forest road climbs to easier boardwalk sections, depending on the age of your children, and how fit you're feeling. Rent bikes at Trailriders Mountain Bikes, where staff make sure that you have everything you need to make some unforgettable memories. They also offer family rates if you call ahead of time.
With so much fun to choose from, you'll remember your family break in Limerick for a long time to come. Check out our Limerick destination page to see how many fun activities for the whole family are packed into the Treaty County.