Try all the Ballyhoura trails
With five looped trails starting near the village of Ardpatrick in Co Limerick, there's something for all cycling ages and abilities. These are some of the best mountain bike trails in Ireland and each loop is waymarked by colour. The trails are laid out as stacked loops, with each leading on to the next loop so you can keep going for as long as you like, right up to the demanding 51km long Castlepook loop.
Greenwood Loop
The 6km Greenwood Loop is an ideal introduction to the Ballyhoura Mountain Trails. Cycle through hillsides beneath the Seefin Mountain and Black Rock and negotiate turns, loose terrain and elevated boardwalks. You'll start with one long ascent before finishing with a long descent and it should take about 45 minutes.
Mountrussell Loop
The 17km Mountrussell Loop is a physically demanding trail that requires a good level of fitness. Here, the route gets narrower, rockier and steeper, so you'll encounter more technical turns along the way. The uphills and descents become more challenging and it should take about two hours. 
The Garrane Loop
The 35km Garrane Loop gets harder still, with tight turns and long, fast descents along the way. There are also some steep climbs on forest roads, rock steps to overcome and exposed roots to cross. Expect this to test your mettle and take around four hours. 
Streamhill Loop
The 41km Streamhill Loop takes you on a remote route that features long, steep climbs and technical descents. This features some of the most technically demanding sections in the Ballyhouras and it takes at least five hours. 
Castlepook Loop
The 51km Castlepook Loop suits seasoned riders who are up for a challenge. Here you'll find the tightest turns, the longest climbs, the fastest descents and the most technically difficult sections of all. It's the most demanding loop but also the most rewarding, taking six hours to complete.
Facilities at the Ballyhoura Mountain Bike Trails
You'll find a full range of visitor facilities at the trailhead, including map boards, bike wash, showers and toilets. You can also get tea, coffee and snacks here at a reasonable price.
There's a secure carpark with CCTV in operation — don't forget to bring some coins. The carpark is open from 8am until 9pm, Monday to Friday, and from 8am until 8pm on Saturday.
Staying in the Ballyhoura Mountains
There is plenty of accommodation in the surrounding area and nearby villages, so you won't have far to travel to get a well-earned sleep after your cycle and you'll be ready to ride more of the Ballyhoura mountain bike trails in the morning.
It's a beautiful part of the country, so allow time to explore the other attractions in the local area like the Ballyhoura Way.
Book a mountain bike rental before you go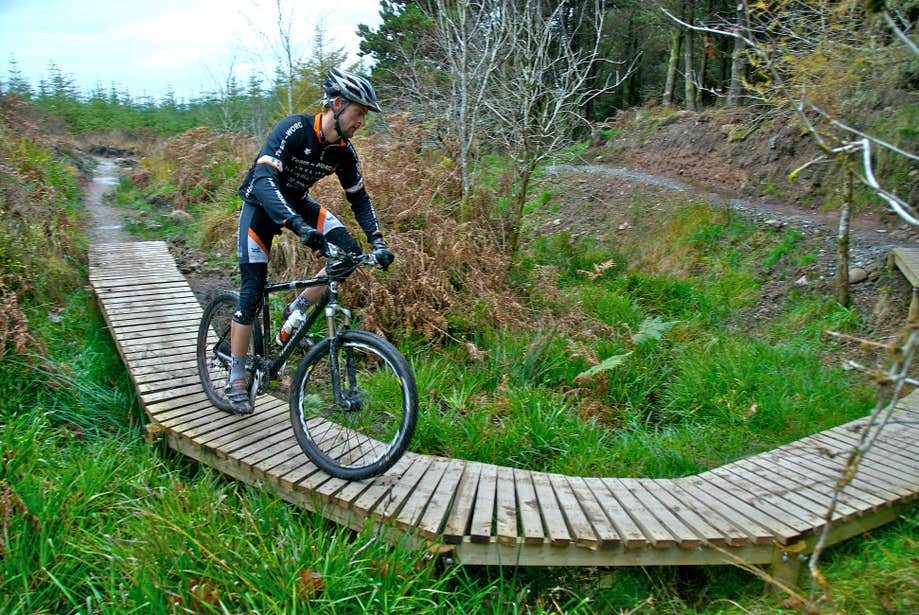 The first requirement is a mountain bike, but you can rent bikes at Trailriders in Ardpatrick. All their mountain bikes are lightweight, less than three months old and equipped with a toolkit. 
Always dress appropriately and prepare for the unexpected. It can get cold and windy on the exposed upper slopes so pack accordingly — it will be no fun if you're shivering in a light t-shirt. Make sure you bring enough food or water if you're planning to do a longer loop.
You'll also need to be aware of other trails users. Some of these mountain bike trails are elevated or narrow so try to be conscious of what's going on around you.
Extend your stay in Limerick after mountain biking in Ballyhoura
Make sure to bring your sense of adventure and get ready to enjoy one of the most unique outdoor experiences in Ireland. After working up an appetite navigating the thrilling biking trails, enjoy a hearty meal in one of Limerick's excellent restaurants. 
Our Limerick destination page features all the best places.