Lough Key Forest and Activity Park
Walk, cycle, segway, zipline or get out on the water at Lough Key Forest and Activity Park. This massive area of mixed woodland, lake and islands is one of Ireland's most picturesque forest parks, stretched across 350 hectares.
The Caravan and Camping Park at Lough Key is a great base to explore all the nearby attractions that Roscommon has to offer. It has 46 landscaped, secluded pitches with electricity points and three large areas for tent space. 
Enjoy the 8km traffic-free woodland cycle path whether you're walking or biking around the forest and activity park. There's plenty to explore throughout the park and your kids can keep their eyes out for foxes, hares, squirrels and even stouts along the journey. 
The Lough Key Experience
With so much on offer in Lough Key, choosing where to begin is a tough choice. Book into the Lough Key Experience to get a great flavour of the full forest park. On this self-guided audio trail, discover how humans shaped this landscape, visit two 19th-century servant tunnels, the Moylurg Viewing Tower and step atop Ireland's only 'Tree Canopy Walk'.
The contemporary canopy walk is a 300m long timber and steel creation that rises 9m above the woodland floor. The kids will love seeing nature from above as you weave through the treetops with panoramic views of the islands of Lough Key. The walk will take your breath away and is wheelchair and pram accessible.
Boda Borg Challenge
If you're up for a challenge, the Boda Borg Challenge is a family-favourite in Lough Key Forest Park. Head into the two-storey building and work together to solve fun puzzles and get through physical activities, through its 47 innovative rooms.
You need a minimum of three and maximum of five per team, and it's suitable for kids aged seven and up - you can't ask for better fun than this when it comes to family bonding.
Woodland Segways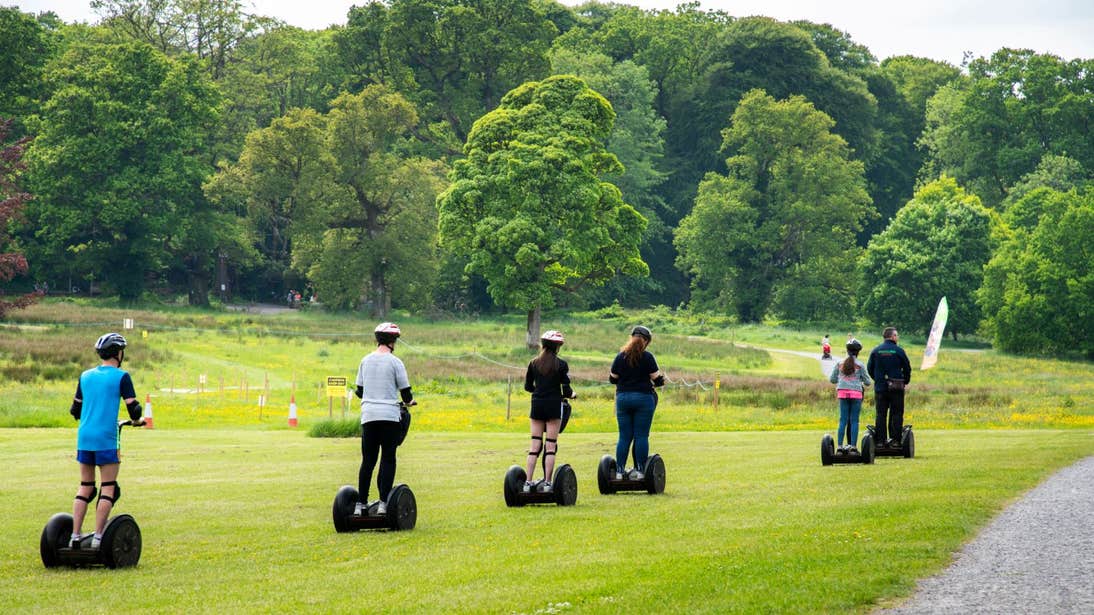 Hop on a two-wheeled electric wonder and glid across Lough Key's trails with Woodland Segways. A super easy and fun way to explore with kids aged 12 and up, you'll cover plenty of ground across the forest park without breaking a sweat. 
Their Rockingham Roll tour is the most popular package for those who want a 30-minute escape across the forest park – pass Rockingham House built by the King Family in 1809 and hear the story of how it was destroyed in 1957, on your travels.
Lough Key Boat Tours
Get out on the water with Lough Key Boat Tours to explore the island-studded lake. Owned by the Walsh and McGreevy family, they have been welcoming visitors since 1984 and know the lake like the back of their hands. Discover the history and tranquillity that this lake is known for on your tour, where local guides share quirky stories of this fascinating landscape, while the boats chug through the water and around one of the greatest lakes in Ireland.
Zipit Forest Adventures
Whizz through the sky with Zipit Forest Adventures within the forest park. This is a must for adrenaline-seeking families - you've never felt the wind in your hair as you will when you zip through the air on this thrilling adventure.
Zipline through the trees, ride a BMX across a treetop bridge, head across suspended ladders and swing into cargo nets. For the truly fearless, there's also a base jump to test your nerve. With 750m of ziplines to enjoy for kids aged seven and up, the only issue might be convincing them to follow you back down to the ground.
Visit Rathcrogan
No doubt you and the young ones will be wanting a bite to eat by this stage. Head to the village of Rathcrogan and grab a bite at the Táin Café, which is themed around the epic 'Cattle Raid of Cooley'. Enjoy fresh local produce, soothing herbal teas and artistic flourishes in this community-run café and grill. Indulge in the all-day breakfast, tuck into a few sandwiches or treat the kids to a choice of desserts.
Rathcrogan Visitor Centre
See history come to life at the Rathcrogan Visitor Centre, where the interpretive exhibitions introduce you to the 240+ archaeological sites, such as Stone Age tombs and ring forts, in the surrounding area. There's a wealth of mythology, archaeology and history in the area, and kids will be enthralled by the ancient stories of old with Queen Medb and the epic tale of Táin Bó Cuailnge. 
Roscommon Castle and Loughnaneane Park 
With a long history of battle, Roscommon Castle has lots of stories within its walls. It changed hands many times throughout the years, from Connacht King Aodh O'Connor's siege over the Normans, to the British garrison who restored it. Now a castle ruin, you can explore the castle that once was and let the kids run free around Loughnaneane Park which surrounds it. 
The castle is a perfect spot for a picnic, enjoy the view from the deck out over the 14-acres of unique flora, fauna and wildlife that call the park home.  Relax in this beautiful green space, run through the wildflower meadow and make sure to see the crannóg known locally as the Hill O'Bones before you go.
Get outdoors and enjoy woodland walks, local history, and adrenaline-filled adventures with the whole family. Head over to our Roscommon destination page and see all the places you have to visit on your next visit.