Explore the best of North Wicklow
Seaside Fun in Bray
There are lots of beautiful beaches all along the scenic coast of Wicklow, but there's something special about Bray and its Victorian promenade. Start your visit to Wicklow in the lively town centre which runs parallel to the Blue Flag beach and boardwalk. 
You can always grab an ice cream and spend the afternoon playing games on the beach or paddling in the sea but there's lots more to do in Bray if you want to stay a little longer. Kids love Sea Life, where you can explore the Ocean Tunnel and meet the sharks (from a safe distance, of course). If you're after something a little more adrenaline-pumping, Bray Adventure has all sorts of outdoor and ocean pursuits like snorkelling, raft building, kayaking and stand up paddleboarding.
After a few hours at the beach, Platform Pizza on nearby Strand Road (and its legendary Punjabi Pizza) is a good option for casual dining. 
Afterwards, families with older children can follow the path to Bray Head and beyond into Greystones before hopping on the DART back to Bray, some of the rockier parts of this coastal walk may be a bit much for smaller feet.
Zipline at Killruddery House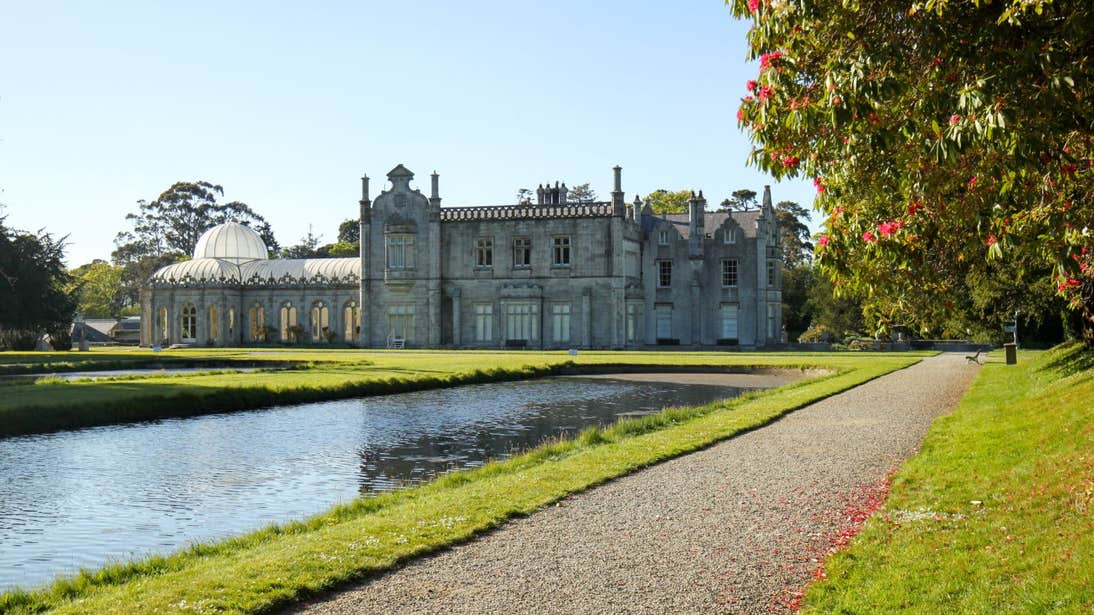 Just outside Bray it is well worth a visit to Killruddery House where children under the age of four get in for free. With its historic house and beautifully manicured gardens as well as a pretty tearoom, you could easily spend a morning or afternoon in this 800-acre estate. 
Take a quiet walk through the Walled Garden and Beech Circle, or let the kids run free in the Squirrel's Scramble Adventure Tree Park with 50 different challenges and a dozen ziplines. If you visit on a Saturday from April, check out the popular Farm Market, which opens from 10am to 3pm and is a great place to pick up some local produce for a picnic. 
Blessington Lakes
Just over the border with Dublin, the glassy water and dense woodland of Blessington Lakes feels like a world away from the buzz of Ireland's capital. Pack a picnic and enjoy some quality downtime by the lake or check out kayaking, zip-lining, archery and more at The Avon.
South to Glendalough, Clara Lara and Brittas Bay
Glendalough's Unforgettable Scenery
The picturesque monastic site Glendalough in the heart of Wicklow, somehow manages to feel like a world of its own despite being one of Ireland's top visitor destinations. You'll learn all about Saint Kevin's Christian settlement at the visitor centre, and the 3km walk around the Upper Lake never feels taxing thanks to excellent pathways and the magic of nature.
Ireland's Biggest Water Slide at Clara Lara
Just ten minutes from Glendalough, the assault courses, boating lakes, tree houses and woodland playgrounds of Clara Lara have formed magical memories for Irish children for decades. This is home to Ireland's biggest water slide, but if you prefer a more relaxing experience there are riverside picnic areas, barbecues and miles of hill walking with spectacular views of the countryside.
Brittas Bay's White Sand Dunes
Drive along the coast half-way between Wicklow Town and Arklow and you'll find Brittas Bay one of the best beaches in Wicklow. With over 5km of white sand dunes this Blue Flag beach is a perfect spot for a warm sunny day so don't forget your bucket and spade. Kids can learn to surf or stand-up paddle boarding at Brittas Bay Surf School .
If you have more time in Wicklow
Tour Wicklow on a fatbike with a trip along the Avonmore River with Fatbikes Adventure Cycling. The 12km Avonmore Way Forest Trail is a good option for anyone new to off-road cycling and families with older children.
Find your way out of Greenan Maze
A working hill farm that includes two mazes, Greenan Maze is a great place to bring a family of all ages. The full-sized Celtic hedge maze is a puzzle well worth solving, while the solstice maze is a more contemplative and relaxing experience. There are three museums on-site, showcasing what farm life has been like for more than 200 years. The nature walk passes farmyard favourites including bronze turkeys, hens, geese, pigs, sheep, horses, highland cows and one very cheeky donkey.
The Garden of Ireland is one of Ireland's most loved counties for a reason, with so many things to do in Wicklow for families. Discover our Wicklow destination page for more child-friendly activities and fun days out.