Imagine you're sitting in a canoe, waiting in a lock as the water rises underneath you. Behind a giant wooden door, you can hear the sound of adventure in the air, from the force of gushing rapids to distant woops and cheers. That's where Daniel found himself on a canoe trip with two friends along the River Barrow in Carlow. 
"It's such cool sense of anticipation, waiting for the water to rise up to the right level," says Daniel. "I'd seen locks in passing before, but I'd never been in one while it was filling up. It was such a novel experience."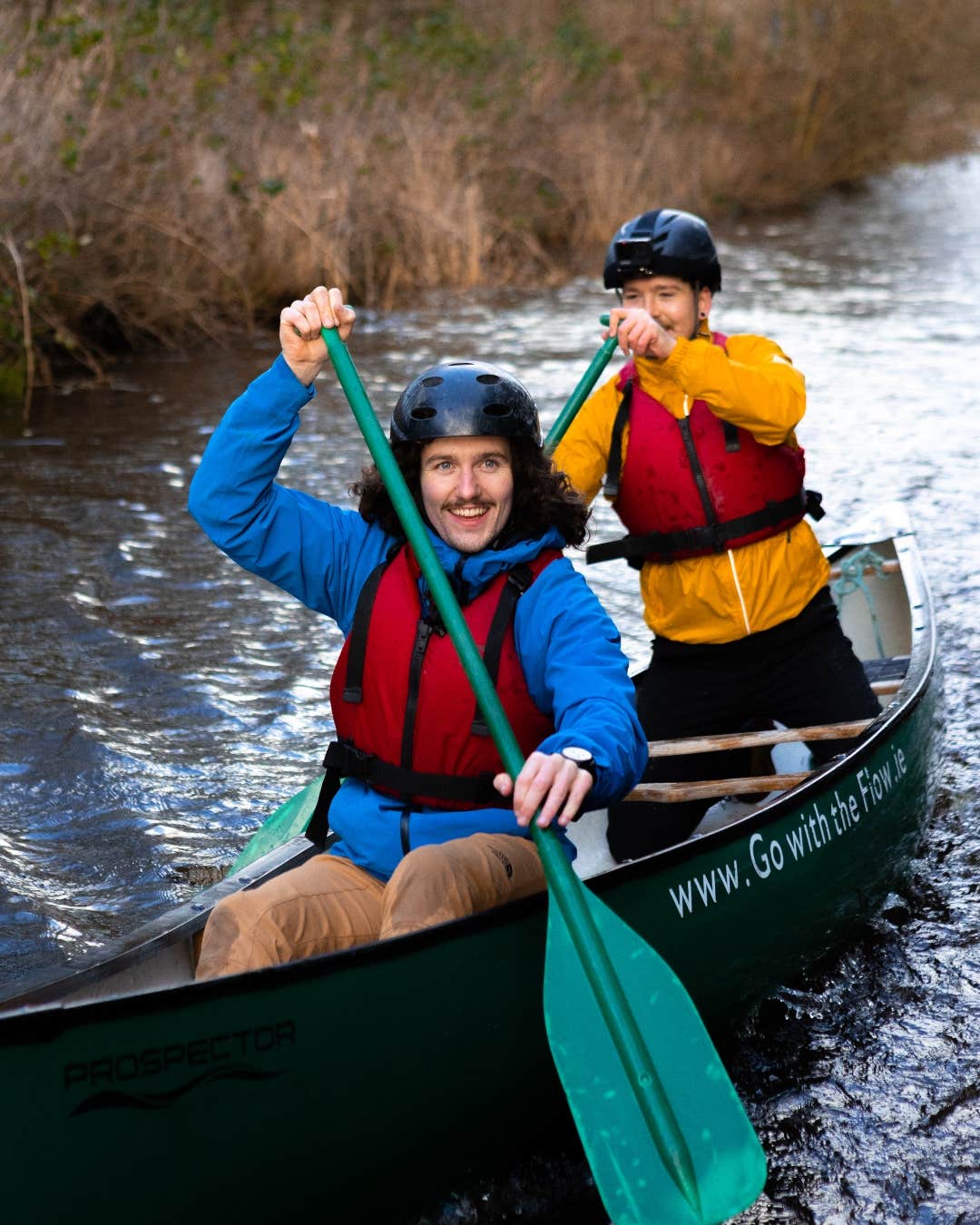 When the doors of Clashganny Lock opened, Daniel and his friend Ciaran were met with the view of the whitewater rapids, with their mate Finn and instructor Charlie Horan, owner and guide at Go with the Flow River Adventures, in a canoe at the other end. After a few shouted words of encouragement they were off, flying over the weir and down the river towards the others. 
But there was another character waiting patiently for them on the other side. Charlie's dog Bloom was perched on the end of their canoe, watching Daniel and Ciaran as they powered over the water. "It was kind of intense," says Daniel. "But Bloom went down the weir so casually that we figured surely if a dog can do it, we'll be OK! He was very chilled out."
Bloom kept watch at the front of the canoe as the group meandered down the river, past little islands and more weirs, negotiating the twists and turns and taking in the scenery along the way. Even when a brief confusion between left and right left the pair momentarily stuck in the riverbank, they still laughed their way along the water. 
"The great thing about watersports is that you just have to arrive with a bit of enthusiasm and an open mind," says Charlie. "You don't need any experience and the instructors are there to help you out. They just want to give you a positive experience on the water. It's so accessible for everybody."
After their thrill ride down the river, Daniel and his friends paid a visit to Polly's in Abbeyleix, where they tucked into homemade sausage rolls and vegan flapjacks before hiking a woodland trail nearby.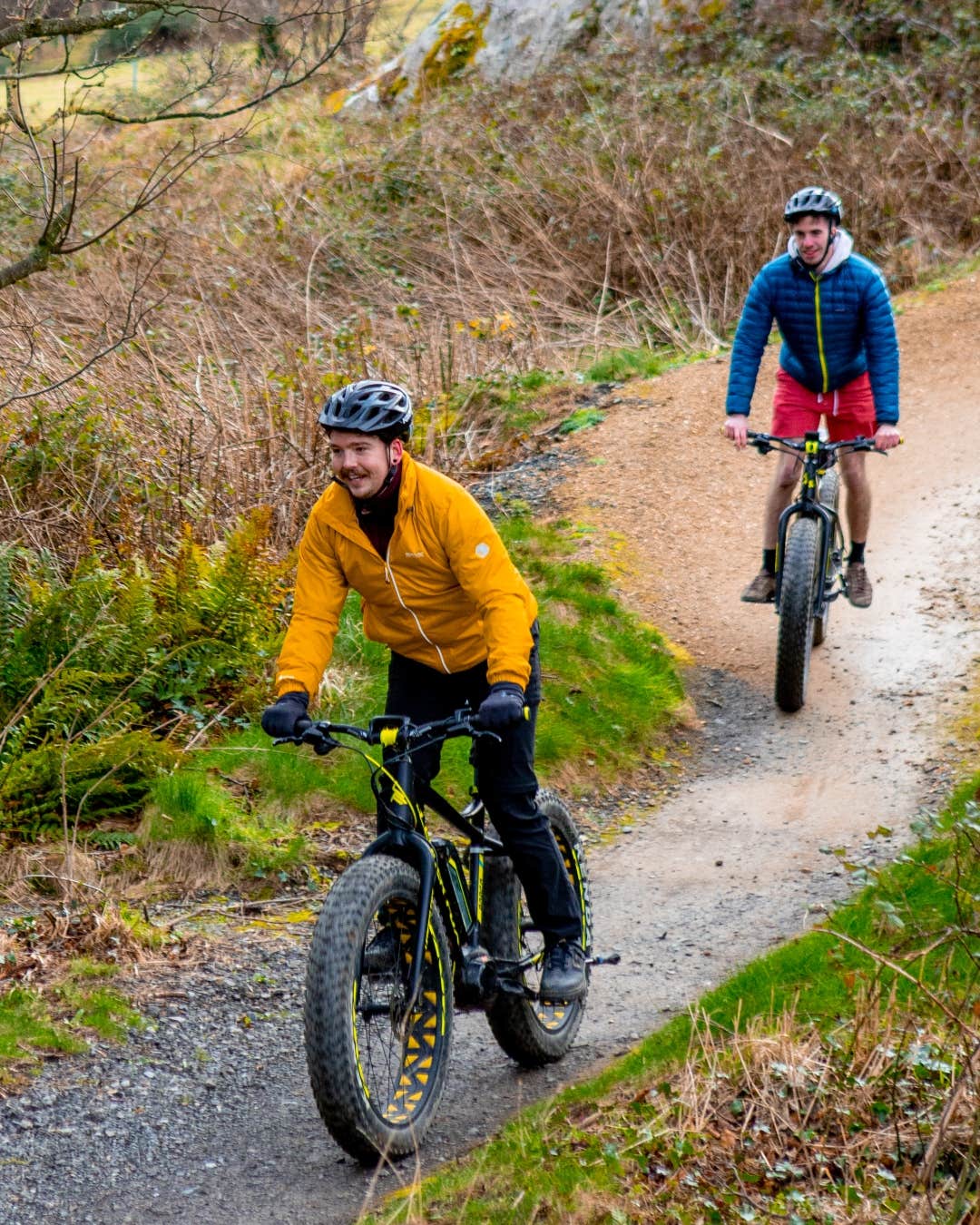 With a bit more energy in the tank, the guys headed to Fat Bike Adventures in Wicklow, where they took to electronic bikes to explore the trails at Belmont Demesne. "Myself and my friends are fairly outdoorsy, but we'd never gone mountain biking on e-bikes," says Daniel. "What I noticed very quickly is that it made the whole thing a lot more accessible. I think mountain biking can seem quite daunting to people but on these, you can put on the electronic assist and you'll be flying around. It's a really fun experience." 
The owner of Fat Bike Adventures, Ian Boltt, agrees. "Electric bikes are a huge game changer. They make going uphill fun. Before electric bikes, I don't think many people liked biking!" 
But being on an e-bike doesn't take away the adrenaline rush of scooting around the mountain. Daniel and his friends got to race around the extensive trails, taking in the curves, jumps and the views, all from the foothills of the Little Sugar Loaf. "I loved getting up on the bike and flying through the trail. It was one of those great moments where you look around and think 'this is what it's all about'. It's so much fun just zooming around with your mates."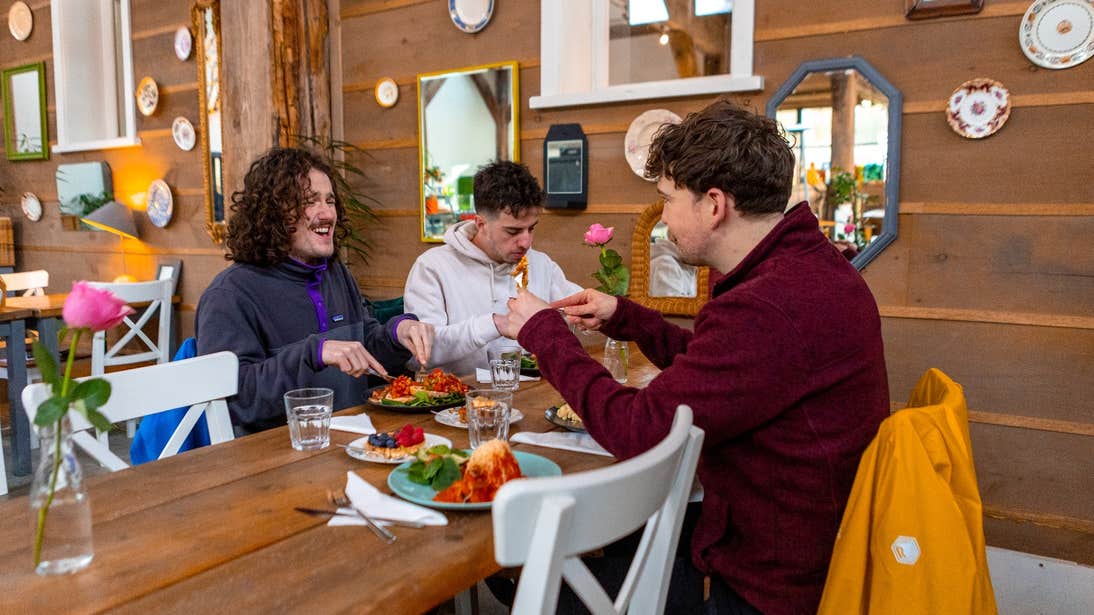 An added bonus? Belmont Demense is also home to Arthur's Café, a chalet-style lodge with open fires and a menu of hearty dishes like omelettes, sandwiches and loads of desserts. Or as Daniel calls it: "All the kind of great stuff you need to fill the belly after mountain biking."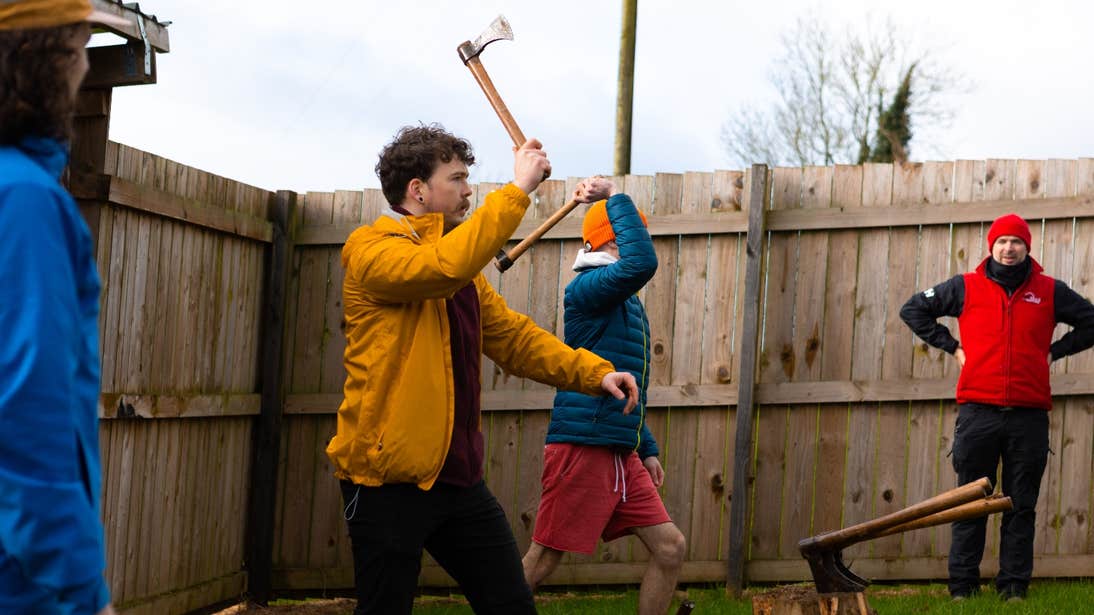 But soon it was time for something a bit more high octane. At Redhills Adventure in Kildare, they had a bash at axe throwing, under the watchful eye of their instructors. Lined up in front of three targets, it soon became a competition to see who would be the first to hit the bullseye. "It was surprisingly difficult," says Daniel. "But once you get your first axe to stick in the target, you get the knack for it. The fact that it's so difficult initially actually makes it even more fun. It felt amazing to get one to stick, I was elated. We were jumping around the place celebrating!"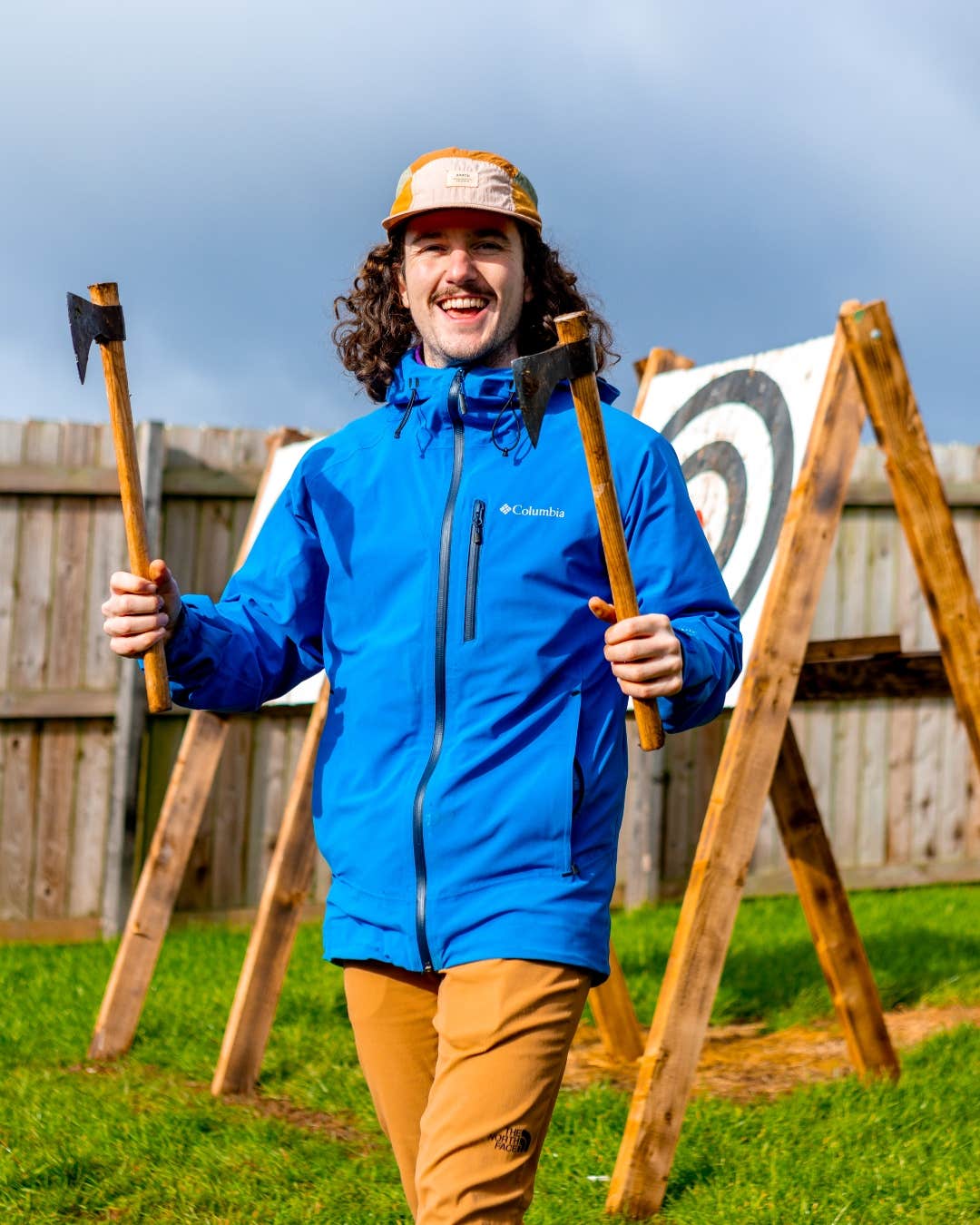 It's one of those cathartic activities that leaves a lot of people whooping with joy. "Axe throwing is a newish activity, but it's very popular with people," says Paul Murphy, owner of Redhills Adventure. "There's a rugged aspect to it, just chucking an axe at a wooden target. People get a good kick out of that. They like the escapism of it."
It's one of the many ways you can find a feeling of freedom all over Ireland's Ancient East, from the peaks of the Wicklow Mountains to the meandering rivers in Carlow.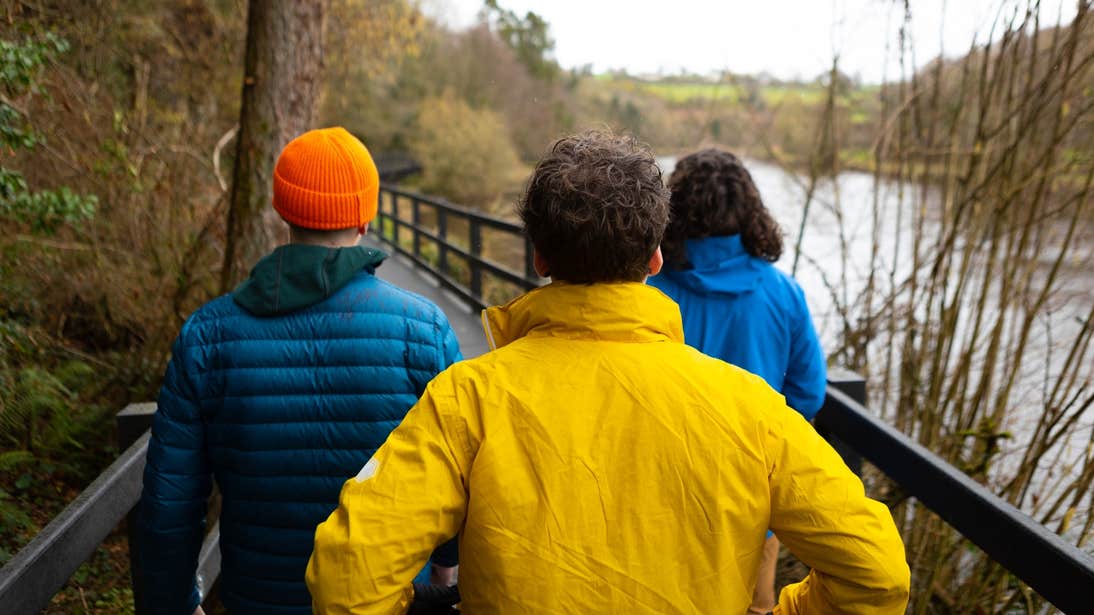 "There's adventure to be found in literally every direction," agrees Daniel. "You've got a mixture of beautiful mountains, oceans, lakes, trails and forest. There's something for everybody and it's all just there for the taking."
"The whole of Ireland is a massive playground, waiting to be explored. It's just beautiful out there."    
Have your own adventure
Inspired to explore what's on your doorstep? It's easy to find an adventure wherever you are in Ireland.