Exploring the great unknown
While people have kayaked from 'source to sea' before, most of those journeys went from the village of Dowra in Cavan down to the Shannon Estuary in Limerick. Sheehan and Skelly, however, wanted to paddle the 333km river in its entirety, starting at the Shannon Pot and ending at the coast in Kilrush. "We wanted to go to the ocean, to reach the actual sea water" says Sheehan. "As far as I know, we're the only two people to have done so in one trip."
It was a mighty undertaking, the pair spending up to ten hours a day in the kayaks and camping along the way. 
The initial stretch from the Shannon Pot to Dowra was trickier than expected, and paddling the first 15km felt more like a jungle expedition. "That section is generally regarded as unnavigable," says Sheehan. "It's very overgrown, and the river is only two or three feet wide in some places. But we found it to be very peaceful as well. You could just hear the river trickling and the sound of birdsong. It was a really cool feeling to be somewhere where very few people, if any, have gone before."
The two men kayaked past rock slides, alongside deciduous and coniferous forests, and through places that they'd "only seen on Google Earth". As the river gradually widened, they were surrounded by native wildlife. "There were so many kingfishers, so many herons, swans, cormorants, just loads of wildlife," he says. "We saw a few fish jumping. We were just so impressed by the peace of it all."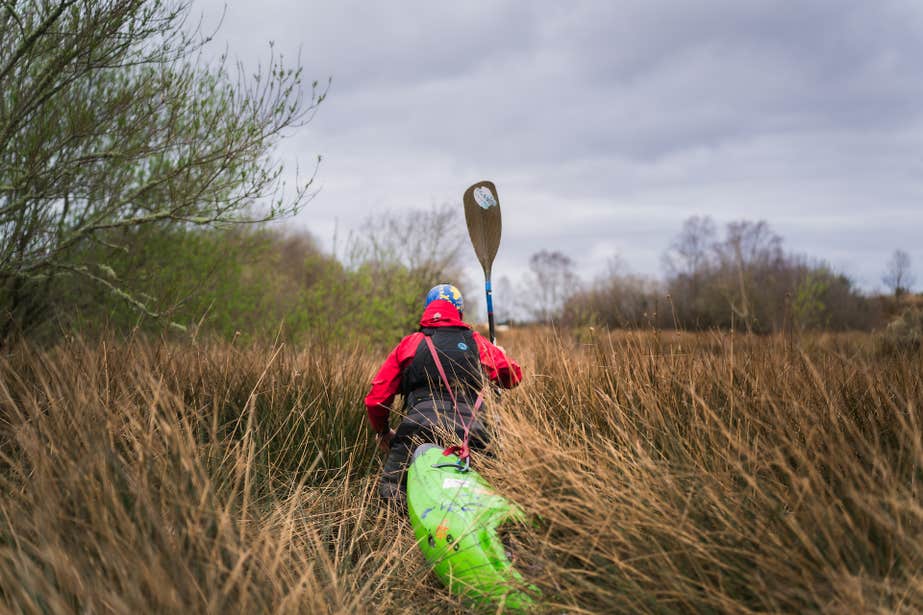 Paddling through history
It wasn't just nature that captivated the pair. The Shannon passes right by some of Ireland's most historically important locations, from Holy Island to Athlone Castle. "There's so much history there," says Sheehan. "And so much that you can't access from the mainland, from religious sites to deserted villages. We stopped at Clonmacnoise on the way down, which is directly beside the river – you can literally paddle right to the entrance."
"On our first day, we stopped at an island at the very north end of Lough Allen. There's an old church ruin and a big fairy fort on the island, surrounded by trees." When they went to investigate the fairy fort, peeking their heads into the circle, they heard a rustling above their heads. "We thought it was birds taking off. But when we looked up, there was a big white goat in the tree, probably about eight feet off the ground. Just looking at us, chewing away. We were both in fits of laughter, I couldn't believe it. We still talk about it to this day."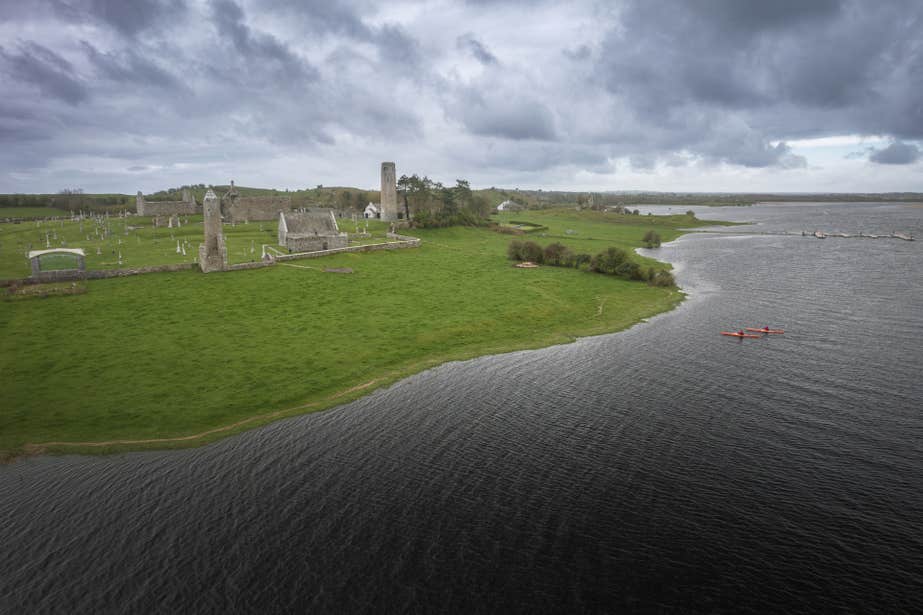 Spontaneous detours
While they had a loose plan for the structure of the journey, they also relished the opportunity to go where the wind took them. "It was a great adventure to see these random places, or go to places you never knew existed," he says. "We got off the water a bit early one day, walked over a headland and stumbled upon an old castle and estate, with a mill and loads of lime walls. It was somewhere we never intended upon going, but we just came across it."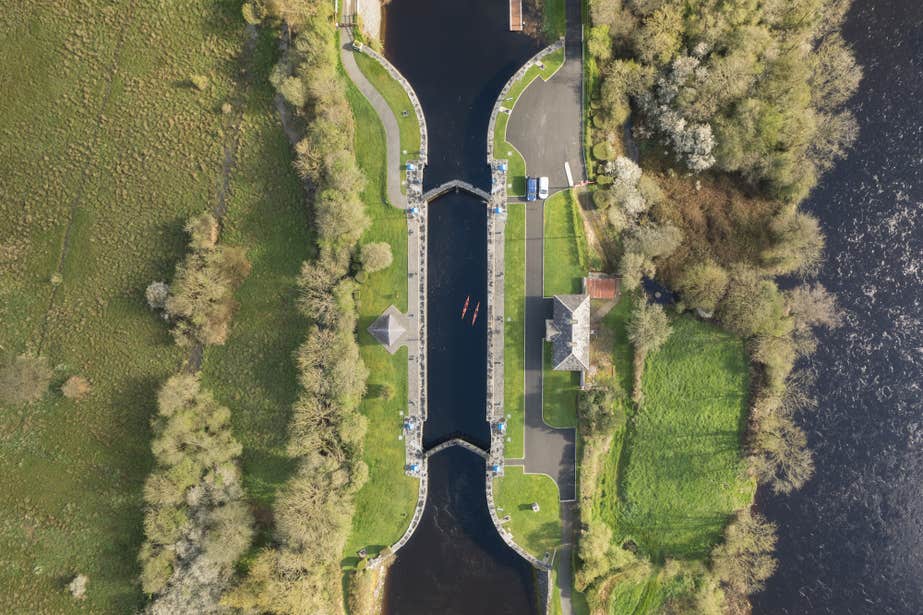 Keeping fuelled up
On average, they spent around nine or ten hours a day in the kayaks, starting off around 7am and covering between 50 and 55km every day. As they were burning up to 8,000 calories a day, they had to allow for regular meal breaks to keep their energy up. Alongside the fruit, protein balls and pasta they brought with them, they stopped in riverside restaurants for treat meals, too.
"We had lunch at the Leitrim Inn, which was lovely and just around the corner from the marina. In Garrykennedy, we stopped for dinner in Larkin's Bar. We also ate at Flynn's in Banagher, which was very nice. It was only afterwards they told us they were feeding us for free, as the chef had heard our story on the radio!"
It wasn't the only moment of support from the public that they saw along the way. As people heard of their journey, they'd make their way to the river's edge to cheer them along – one woman even brought them ice creams. "There were so many well wishes, and it was a great encouragement."
Unexpected moments
Despite the journey being a fairly strenuous challenge, the pair found ways to make it through the long days. "It was surprisingly OK, to be honest! We did well in terms of supporting each other. If I had a bad day or was just feeling it, Mac would go ahead and block the wind or lead the way, and vice versa."
But it was when Sheehan was feeling his lowest that he experienced the high point of his entire trip. "We were coming down the Shannon Estuary, which was probably the toughest part mentally, as the finish line was in sight. We pulled in to have a break and just before we got back in the boats I saw a bird come over the hedge. It was a whitetail sea eagle, with a wingspan of probably two metres. It was like a motorbike flying in the air, it was incredible. That was a sign from Mother Nature, when we needed it the most."
Note: Eagles are a protected species and kayakers should only observe them from afar — never approach their nests.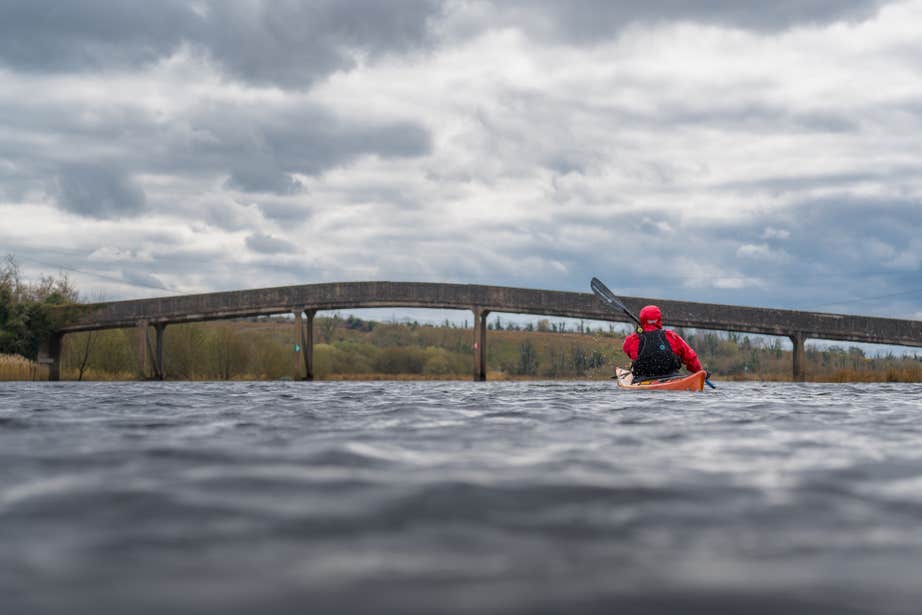 How to explore the waterways
While their trip was something that's probably out of reach for a lot of people, Sheehan says that there are plenty of places along the Shannon where even beginners can get out and enjoy the water. "One place that really surprised us was the stretch from Shannon Bridge to Banagher in Offaly. It was somewhere I had never ever been, but it was so peaceful. Lough Derg is good for different [kayaking] levels, too – you could start from Portumna and go to Garrykennedy, or Killaloe, or Scarrif."
The bonus is a lot of these places are accessible, even if you just want a quick adventure. "Up around Carrick-on-Shannon and Athlone, there is such a big industry around the water. There are cruisers everywhere, people living on boats… people seem to make use of it a lot more, which is fantastic."
The trip made Sheehan realise just how much he has yet to discover in Ireland, and how incredible our waterways are.
"People can live in a town beside the river for years, but it's only when they get on the water and explore that they can see what's right beside them. It's something that we probably don't appreciate enough, the fact that we have all these waterways and lakes around us in Ireland. Forget about going on holiday abroad, or going to the coast – there's loads to see inland."