Explore the seaside village of Dunfanaghy
There are a few private coach companies that travel between Letterkenny and Dunfanaghy, and the good news is they're all punctual, comfortable and manned by friendly bus drivers. The timings can be a little tricky (particularly at the weekend) but your best bet is to catch the morning service with Mangan Tours,  before travelling back with John McGinley later in the day (45 minutes, 3–4 a day).
It's a scenic route, no matter who you're travelling with. The narrow road twists up through the mountains and alongside the shore, with great views of the coast towards the end. The buses all stop at Market Square in the middle of the village, so make your first pit stop a coffee in nearby Revive, a spot that's half café, half retro store. Breathing new life into once forgotten pieces, owner Kathy Dunn showcases antique furniture and retro pieces that have been refurbished in their workshop, like vintage boules bags or battered Chesterfield couches. Upstairs, you'll find mid-century furniture alongside vintage clothing, and you can get a flat white and a brownie in the coffee bar downstairs.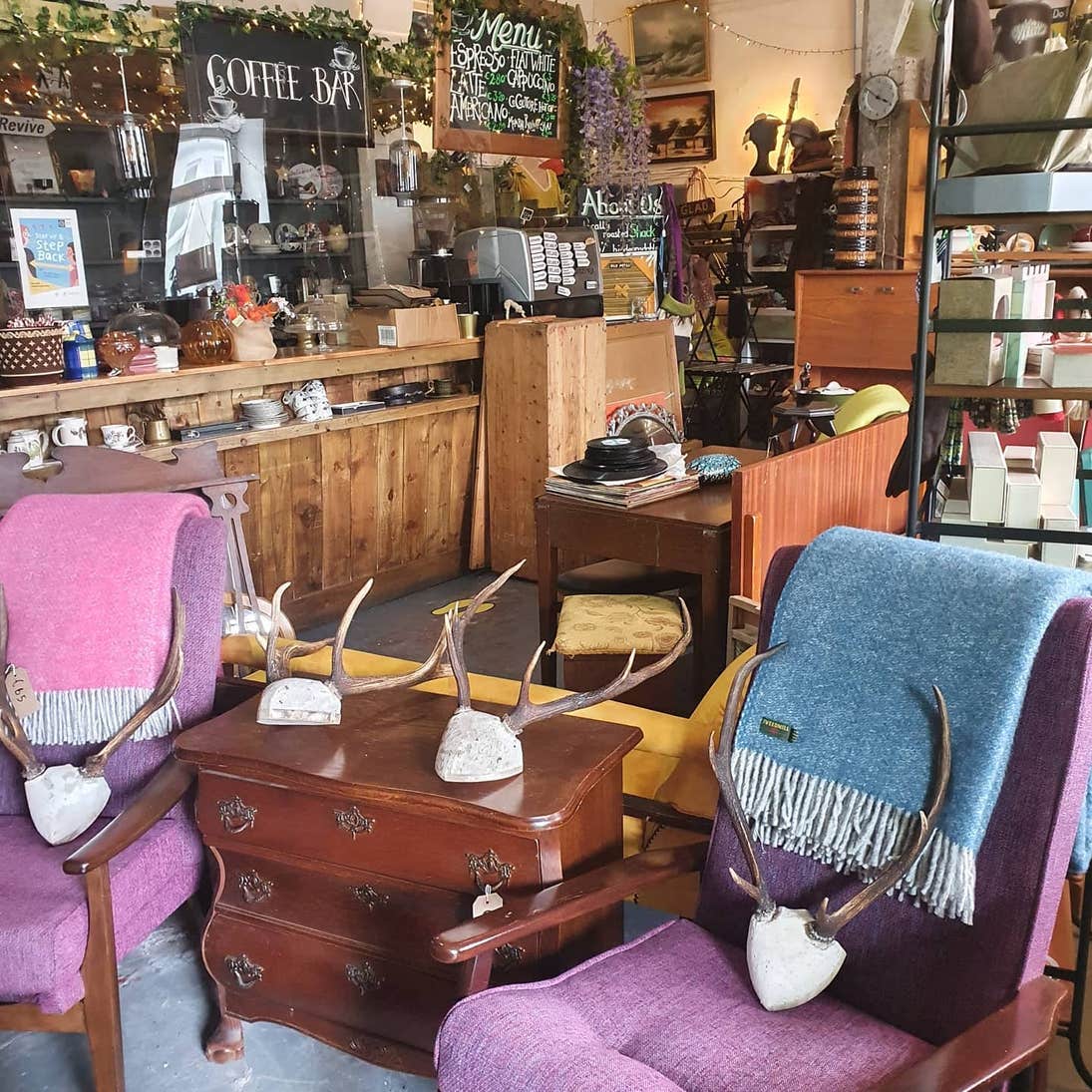 Walk seven minutes west along Main Street and you'll get to The Workhouse Famine and Heritage Centre. There's an exhibition space inside, where you can take a tour to learn about what life was like in the famine era. In what was the Fever Hospital, you can buy locally made products like sheep's milk soap, Donegal tweed and natural perfumes. There's also the cosy Workhouse café with oversized armchairs and well stocked bookshelves. 
If you want to learn a bit more about the history of the village, download the free Dunfanaghy Heritage Trail app. The route starts at The Workhouse and leads you back through the village with audio information for places like Market Square, the churches and Dunfanaghy Green along the way. It's a handy way to get a bit of intel on the local area while going at your own pace.
See the local beaches
Heading to a remote beach usually means getting in a car. But one of the best beaches in Donegal can only be reached on foot. Tramore (Trá Mór) is wild, secluded and beautiful, and it's because of this, the locals are keen to maintain it. So, when walking the well-trodden paths to the beach, be sure to steer clear of the sand dunes and to leave the beach how you found it.
It takes about 15 minutes to walk from Dunfanaghy out to the Lurgabrack Nature Reserve, which marks the start of the trail to Tramore. The walk takes you through a short patch of woodland before you reach the marram sand dunes, where the path weaves up and over the undulating peaks.   
You can hear the sea long before you can see it. But after about 30 minutes you'll climb up one last peak, walk through a little gap in the dune and reach the beach, a perfect crescent of white sand flanked by two grassy headlands. If you fancy a longer walk, take a stroll along the 3km beach, which you may very well have all to yourself.
Want something even easier to get to? Blue Flag Killahoey Beach is a 15-minute walk from the middle of Dunfanaghy, a handsome stretch of sheltered sand. At low tide, you can sometimes see the rusting remains of a shipwreck, the steam trawler Dinas that stranded here in 1937.
At high tide, it's even easier to get into the water. When Dunfanaghy Bay is full, you can enter the sea right from the village, and the best way to do so is by renting a stand-up paddle board from Narosa Surf School. Once you've got your gear, you just walk across the road and get straight into the sea.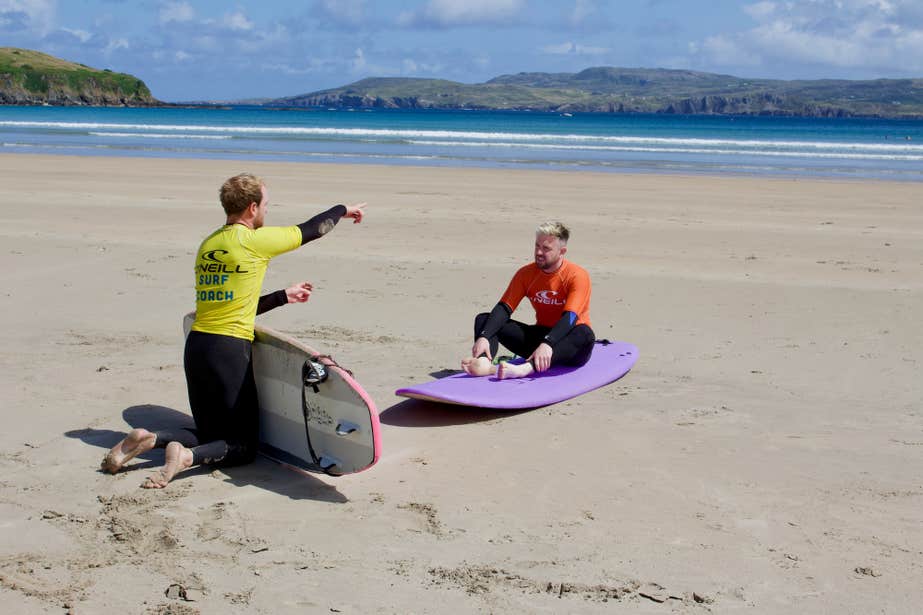 The best surfing beaches are a little further afield, but when you book in for a lesson with Narosa you can get a lift in the van out to wherever the surf is that day. When you land on the beach, the instructors will teach you all about the local tides and how to read the swell. Before long, you'll be catching a wave on one of their boards (which are specially designed for newbies). If the lesson is at Marble Hill Beach, you can treat yourself to a coffee and scoop of ice cream at The Shack afterwards, which is just on the edge of the sand.
If you fancy something a little more laidback, walk the 3km from Dunfanaghy out to Portnablagh, a picturesque beach with giant rocks on one side and a small stone pier at the other. At the end of the pier you'll find the new Cocoon Sauna, a barrel shaped wood-fired sauna with a full length window overlooking the water. There are steps right to the side, so you can get out regularly and dip yourself in the sea to cool off.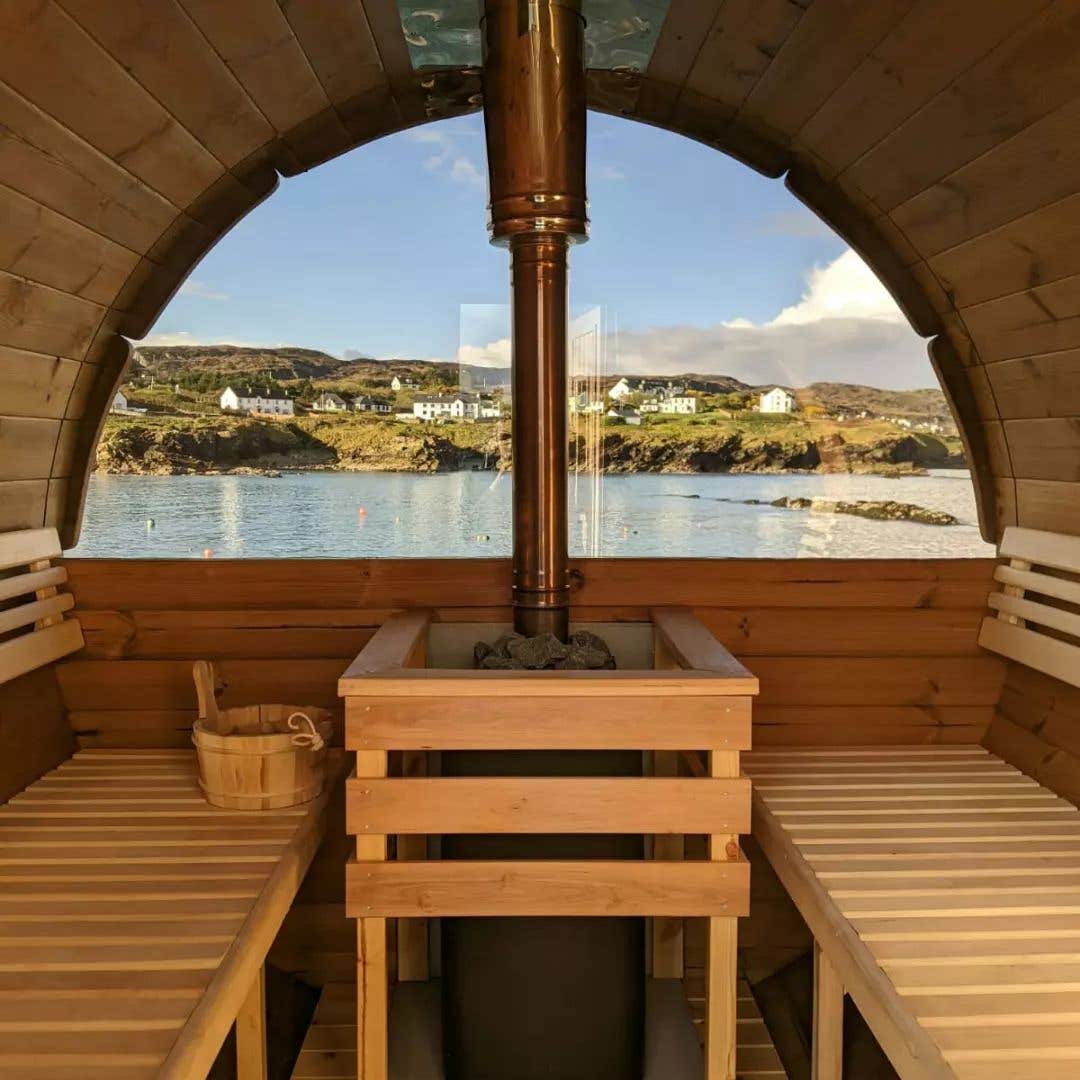 When it's time to leave, the buses all depart from Market Square and head back to Letterkenny. If you're heading further afield, you can travel straight from Dunfanaghy to Dublin or Galway, with John McGinley and Bus Feda, respectively. Bear in mind the coach times often cater to weekend breaks, so you can arrive on a Friday night and depart on a Sunday, if you want to extend your stay.
Where to eat in Dunfanaghy
At first glance, Patsy Dan's seems like a regular traditional pub, with smouldering turf fires and old stone walls. But walk through to the courtyard and you'll find one of Donegal's hottest food spots, the Rusty Oven. Here, you can watch chefs slinging pizza dough over their heads then charring it in the wood fired oven, as people crowd around wooden tables and tuck in. The sourdough pizza is excellent, with creative toppings like caramelised pear and walnut or nduja and spinach – they even make a dessert pizza with chocolate and marshmallows. Be sure to reserve a table in advance, as they're often fully booked.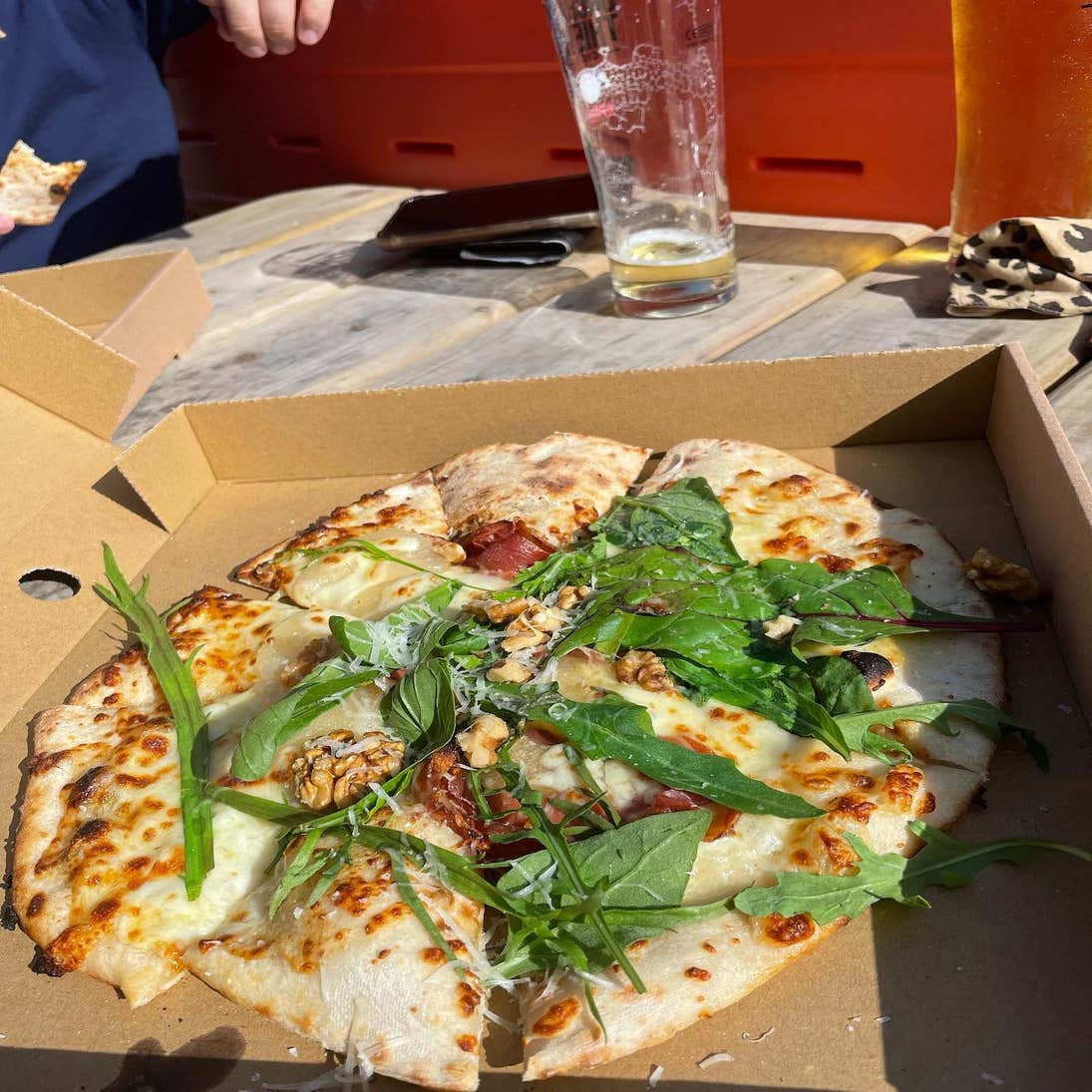 If you've been out on the water, you'll likely return to the village ravenous. Enter Arnou Café, a gourmet burger bar that's part of Arnold's Hotel. Grab one of the outdoor tables and see what tickles your fancy, from the cowboy burger with BBQ sauce to the grilled portobello mushroom stuffed with cheese. The menu is longer in the evening, with the likes of chicken wings and fish and chips on offer, and you can get your meal to take away and eat it by the sea just over the road. 
Just around the corner on Dunfanaghy Square is Muck 'n' Muffins, a pottery studio and craft shop where you can pick up quirky ceramic pieces and candles. But upstairs, it's an old school café that's great for lunch, with loads of toasties, wraps and baps on the menu, along with more filling stuff like lasagne, baked potatoes and quiche. It's all homemade, hearty and well-priced – and if you have a sweet tooth, their hot chocolate topped with cream and marshmallows will go down a treat. 
Feel like treating yourself? The Cove Restaurant is just outside of the village by Portnablagh, and there are gorgeous views out over the water from the window side tables. They specialise in local seafood prepared in unusual ways – you might see wild sea trout gravadlax with pickled cucumbers, or local hake with slow roasted tomatoes. Their Scotch egg, made with smoked haddock and beetroot, is particularly special.