Hitting the road - without a car
Jo's first step toward a more earth-friendly holiday? Leaving the car at home.
"I ordered an electric, carbon-free eco taxi to get to Busáras, and then I got the Expressway from Dublin to Ballina direct. The trip was so pleasant, the scenery was amazing, there's a stop halfway just to get off and refresh and come back. It's a straight run, so handy. You get given the gift of time, too, and can just relax and take in your surroundings," Jo says.
A scenic walk from Ballina town to her accommodation set her up for what was to be an eye-opening few days out west. Checking into the famous Ice House Hotel, Jo felt immediately immersed in the natural landscape and ready to explore the area.
"The Ice House is phenomenal. Historically, it was an actual ice house used to preserve wild salmon before shipment. The design of the hotel really brings nature back in, and in the rooms they use refillable shampoos and conditioners to reduce plastic. Their spa product range Voya is seaweed-based and very sustainably focused, too," she explains.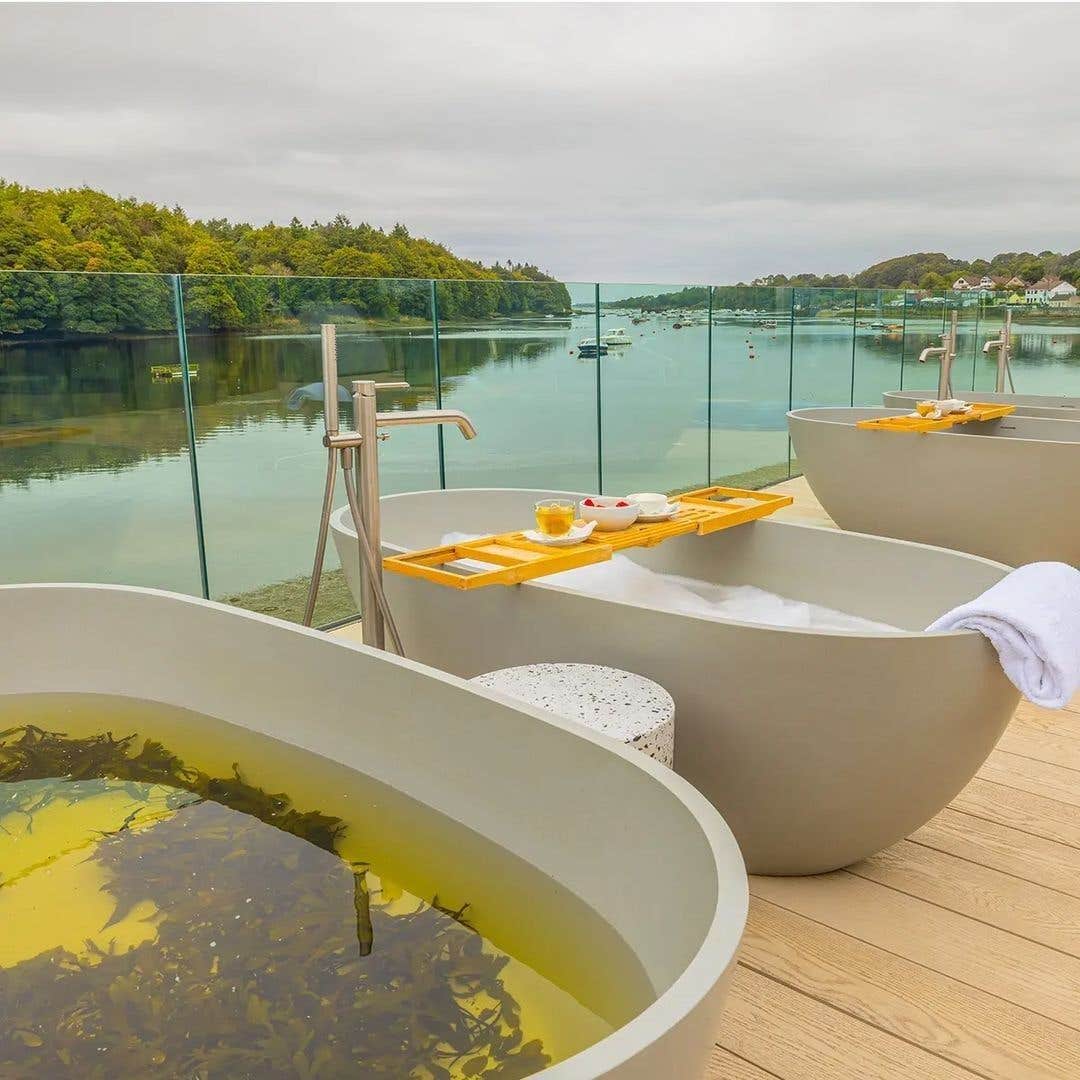 Stress free after a chilled coach trip, Jo relaxed into her accommodation perched on the banks of the River Moy.
"I walked over to the other side of the river, to the town, and went to visit the Connacht Whiskey Distillery. They make their own small batch vodka and gin. There's a really small team there and they gave us an amazing tour of the whole distillery followed by a tasting. They've got a beautiful little gift shop with locally sourced products like chocolate and ceramics. You get a very intimate experience there," recalls Jo.
Relax into action
The chill vibe was a running theme of Jo's weekend out west: A relaxing bath, a delicious dinner and a spa treatment at the Ice Hotel helped her to achieve peak zen. But action wasn't far from mind either, as Jo found when she walked to the nearby Rachel's Irish Adventures to go touring cross-country.
"Rachel runs different cycling tours around the country alongside her business partner," Jo says. 
"One of the girls took me on an electric bike to explore the whole area. We were gone for four hours, it was incredible. I'd never used an electric bike before, so you're cycling along normally and if you hit a steep area or just need a bit of a break, the bike helps you out a bit," she explains.
"I wanted the exercise for sure, but I wouldn't have been able to endure four hours, so it really helped to be on the electric bike. It means you can be at any fitness level, or with kids, and enjoy a cycling tour."
"We cycled all along the River Moy, went through the stunning Belleek Woods, saw some amazing monastery ruins and a famous round tower. Izzy, our guide, had supplied us with a gorgeous vegan picnic, with herbal tea, sandwiches and fruit, too," Jo adds.  "We also stopped in Jack Fenn's at Belleek Castle for a quick coffee, which came highly recommended."
Keeping it local
While Jo enjoyed a steak dinner one evening at the Ice House, she also made a priority to return and order from their extensive vegan menu, with plant-based dishes largely sourced from local suppliers and producers.
"The vegan food was fantastic – not just ticking a box, but genuinely really good. I would absolutely bring a non-vegan person there and they'd be happy with their meal," she says.
Keen to dive into the history of Ballina, Jo explored the extensive archives at the Jackie Clarke Collection.
"Jackie Clarke was a TD in the town and was obsessed with Irish history, and throughout his life he collected over a million historical artifacts. The collection has things from the war, the famine, census documents, maps, so many interesting pieces," she says.
"His dying wish was that his archives would be displayed for free for the people of Ballina, Mayo and Ireland. The collection on display is constantly being refreshed, and it's housed in an old bank, which is such a beautiful building. It's like this amazing time capsule," says Jo.
Taking in the scenery
When travelling without a car, walkability is key. Jo took a five minute walk around the corner from the Jackie Clarke Collection to The Post House for a tasty and filling lunch (a ham and cheese toastie, obviously).
Hopping aboard a comfy coach once again, Jo headed to the Céide Fields and its visitor centre to take in some stunning scenery.
"Winding down along the coast by Downpatrick on the bus trip was absolutely breath taking. I could have spent twelve hours in the Céide Fields, there was so much to see and do there. The views were genuinely the highlight of my trip west."
"They have a massive visitor centre that's completely interactive, they have a whole section on climate change and the future of the planet, they go through the whole history of farming in Ireland… there's so much there. And you are doing all that while overlooking some of the most beautiful cliff faces on earth."
Travelling light
Packing light is hard enough – travelling with a light touch on the environment requires another level of planning and care. But with a load of experience travelling with sustainability in mind, Jo has some excellent advice for those looking to be more mindful of their habits when on the move.
While the best way to reduce your footprint is by walking, cycling and utilising public transport to get around, there are other small yet impactful ways to help, says Jo.
"If you're staying more than one night at a hotel, it's best to leave the 'do not disturb' sign on your door and not get the linens and towels changed if it's not necessary. Skipping a daily room clean in a hotel will save an estimated 35 litres of water, 100ml of chemicals, and 1.5 kWh of electricity, so it's definitely worth doing."
"Bring a keep cup, bring a refillable water bottle, and if you see really great plant-based options on a menu, try them. Embrace your tech, too – have tickets and information on your phone rather than printing them out," she advises.
Back for more
After experiencing the particular magic of the area, would Jo recommend Ballina, and Mayo, as a good spot for a couples' or friends' trip away? Without a doubt, she says – and you don't need a car to do any of it.
"Walk, cycle, explore – honestly, it's the best way to see the area," she says.
"There is just so much there to do – and so much I didn't even get around to. It's clear you're in such a special part of the world."