Stress-free journey
Rather than navigating the roads herself, Fionnuala and Rebel made their way down to Tralee on the Expressway, a journey that was far easier than she anticipated. "It couldn't have been any smoother," she says. "It was really lovely seeing the scenery on the way down to Kerry. We also got to have a nap, so we were really relaxed when we arrived!"
Once they had dropped their bags into the Rose Hotel, Fionnuala made a beeline for the nearby Tralee Bay Wetlands Eco & Activity Park, a conservation centre that was right up her alley.
"It's absolutely magic," she says. "There was a bit of a wetland there that they've reclaimed, and the nature has just returned in droves. There were baby goslings, huge dragonflies, otters and swans." Heading to the top of the 65 foot high viewing tower was a highlight, where she could see the habitat in all its glory.
Cultural connections
The pair set off on a short walk to Siamsa Tíre, The National Folk Theatre of Ireland. Part theatre, part exhibition space, Siamsa explores the past, present and future of Irish folklore.
"I'm really into the trad revival, but there's so much I didn't know about our folk scene," Fionnuala says. "The heritage and the history they're preserving is incredible."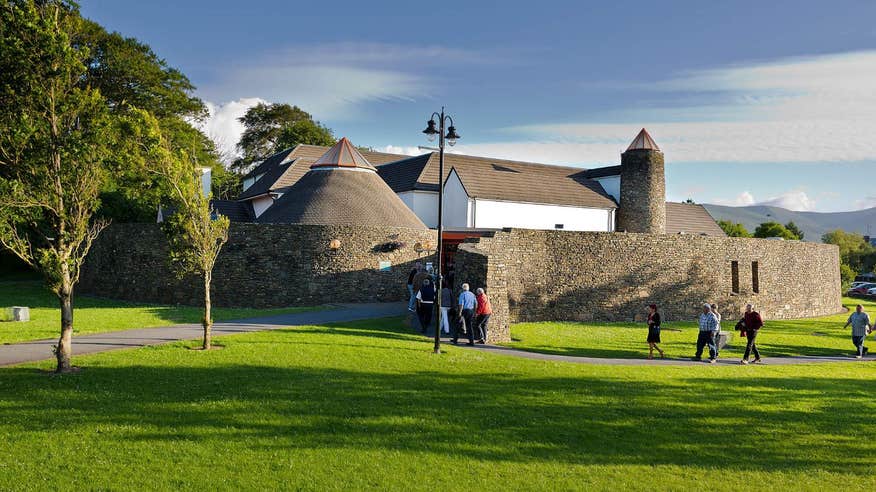 Fionnuala was thrilled to see how important sustainability is to Siamsa. "It's the first green certified venue in Ireland – they've reduced their waste by 85% and put LED lighting in, as well as solar panels."
Nature's bounty
As a passionate vegan and advocate for eating sustainably, Fionnuala is always on the lookout for places to eat that fit into her lifestyle. She was pleasantly surprised to find excellent vegan options throughout her trip to Kerry.
"Ballyseede Castle is like something out of Bridgerton, it's spectacular. I ate the freshest tomatoes I've ever had in my life. They were clearly grown just a few metres away from the castle," she says.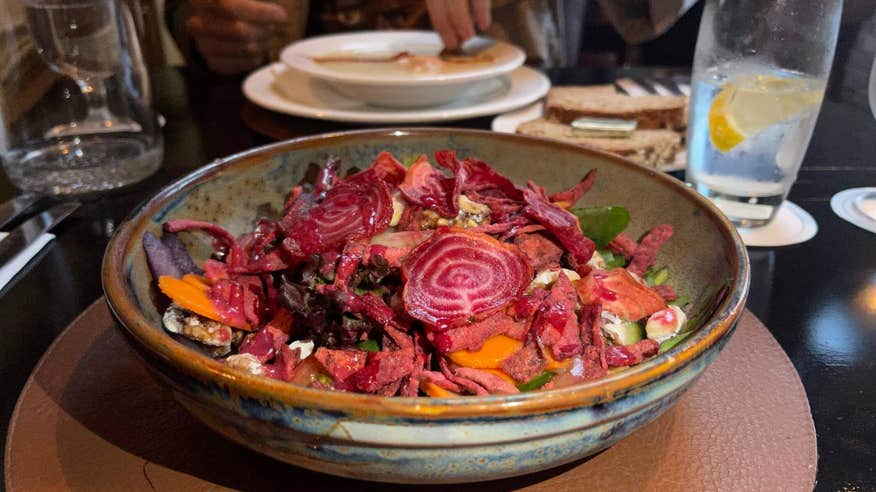 "In Ballygarry Estate Hotel, they make such a point of sourcing locally – all the food comes from within a 10 mile radius. It's a really gorgeous place that the town is really proud of."
The pair picked up bikes from Tralee Bike Rental and cycled down to Fenit on part of the new Tralee to Fenit Greenway. "When we got onto the Greenway, it was so full of life. There were butterflies everywhere, and so many blackberries they were weighing the bushes down."
The off-road cycle path led them down to the sea, on a coastal route that showcases the incredible landscapes of the Wild Atlantic Way. "On one side there are these insane mountains that creep up into the clouds, they're spectacular. The sea was really calm, and the view was magnificent."
Sailing out to sea
After arriving in Fenit and locking up the bikes, they only had to walk a few steps to the marina, where they hopped on a boat with the Tralee Bay Experience to explore this beautiful stretch of coastline from the water.
"It was probably our favourite activity on the trip," says Fionnuala. "It's run by a husband and wife team, and they have such grá for the area. They knew all the local lore and history."
After setting sail on the flat, calm waters of Tralee Bay, they saw Fenit Lighthouse up close and got a lesson in local archaeology — and ate fresh samphire picked straight from the lighthouse rock.
Literary history
After a good night's rest, the pair journeyed on to Listowel, catching the bus from Tralee and landing in the 'literary capital of Ireland' just half an hour later. Despite the fact that they were leaving Kerry that evening, they managed to pack a decent adventure into their last day.
"It's so nice not to have a long drive home," says Fionnuala. "If I have a four hour drive ahead of me, I take it easier with the itinerary. Whereas if I know I can just kick back on the journey home, I can fit way more into my holiday."
In Listowel, they visited the Kerry Writers' Museum and the neighbouring Listowel Castle. "Listowel is such a pretty town," says Fionnuala. "The museum is done in a really modern way, highlighting local writers like John B. Keane and Brendan Kennelly. It's interactive, so brilliant Seanchaí, the old Irish storytellers, will explain what each room is about."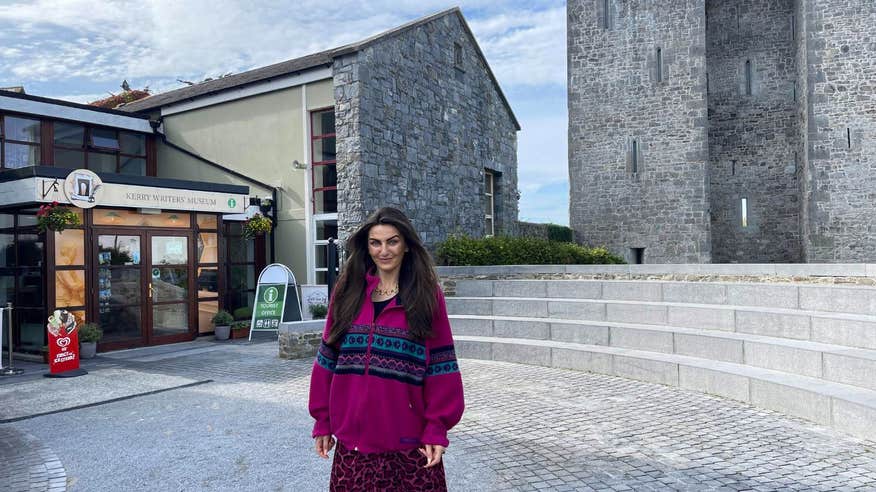 When the evening arrived, it was time to hop back on the Expressway and make their way home.
How to travel sustainably
If you want to follow in her footsteps and make your travels as green as possible, Fionnuala has some tips.
"Ditching the car as much as possible is brilliant, or opting for any kind of transport that you share with other people, like the Expressway," she says.
Fionnuala also packs a few items in her bag wherever she goes to minimise single use plastic on the road. "I always pack my reusables, like my coffee cup, cutlery and water bottle – increasingly, there are more and more places where you can refill your water bottle, be it in restaurants or filling stations. I also bring a reusable napkin and a straw, too."
If you're new to travelling on public transport, she has some advice. "It's good to leave a nice bit of time between each journey to make sure you have enough time to make a bus and get settled without rushing. We also wore nice comfy clothes for the journey, which makes it easier to have a little snooze on the bus. My dad's brilliant advice is don't pack what you can't carry! There's plenty of space on the bus, but packing light makes your life easier."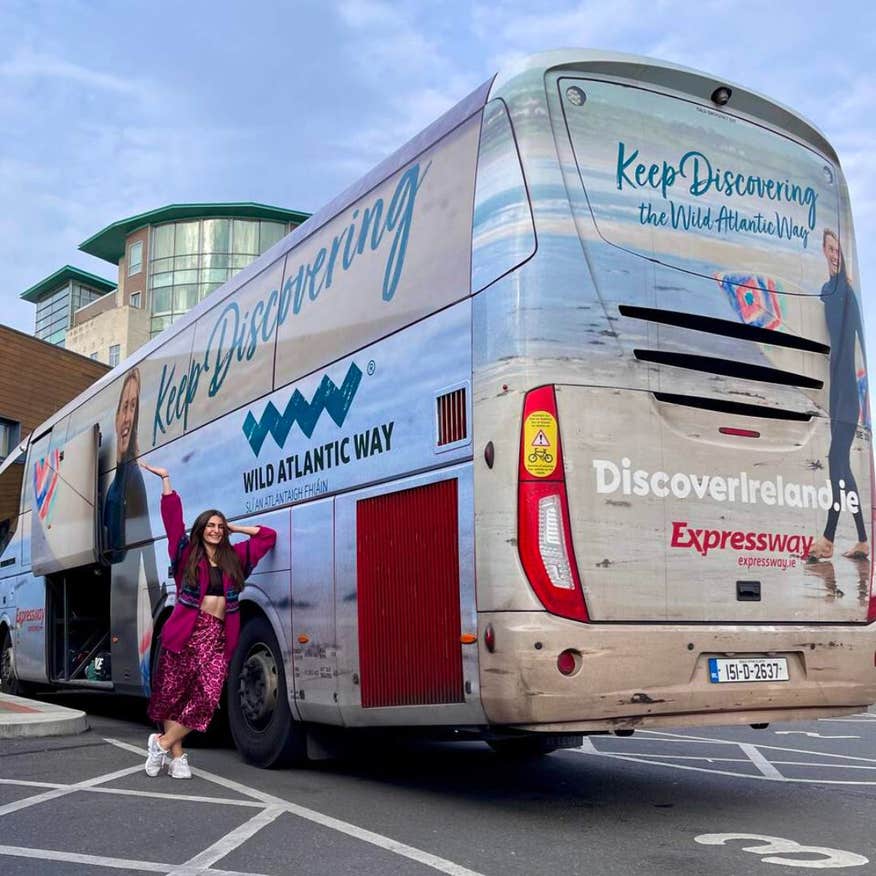 "I think a lot of people have this perception that the Wild Atlantic Way is totally inaccessible to people without cars, but there are lots of brilliant things to do in Tralee on a bus or a bike," Fionnuala says.
Travelling by bus or bike also means you get to take in your surroundings, without having to focus on driving.
"Kerry is absolutely spectacular and the locals couldn't be friendlier – everyone has a story for you," she says. "This trip won't be my last."