Brú na Bóinne Visitor Centre
Considering Newgrange, Knowth and Dowth are all more than 5,000 years old, the architectural, artistic and astronomical know-how needed to build each one, is truly astonishing.  Start your journey back in time at the Brú na Bóinne Visitor Centre, the hub for the Neolithic monuments in the area, and the starting point for all tours of Newgrange.  
Immerse yourself with the full-scale replica of the chamber at Newgrange and move onto the model of one of the smaller tombs at Knowth, which were all renovated in 2019 to bring the visitor interpretive centre up to date with new discoveries and technologies.
Leave the modern world and walk along a simulated River Boyne, as it might have been in the Neolithic era, complete with sounds and sights of the time. Huge video walls, that you could almost step into, celebrate all the monuments in the area, from the stars of the show in Newgrange and Knowth, to the henge monuments discovered in recent years.
Explore how people lived 5,000 years ago, from the houses they lived in, how they made their food and how they treated their dead, before hopping on a shuttle to see the real thing.
Newgrange Winter Solstice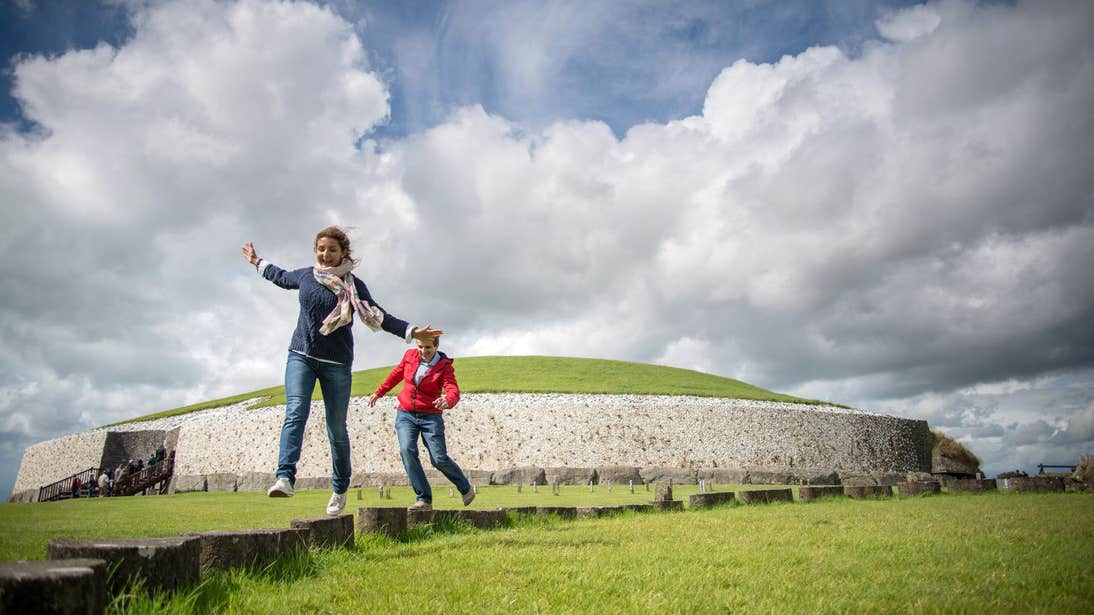 Newgrange is impressive from the moment you approach its white quartz front – the huge round stone walls capped by a grassy dome seem eerily futuristic, given the site's age. 
Walking into any 5,000 year old passage tomb is a unique experience, but Newgrange is particularly special. There aren't many examples of prehistoric engineering as impressive as this one, where the morning sun shines through a perfectly aligned roof box during the winter solstice, illuminating the entire main chamber. Access to this almost miraculous happening is limited to 50 people per year, and the good news is that it's decided by lottery.
Newgrange is worth seeing at any time of the year, and you can witness a very realistic electrically powered simulation of the magical winter solstice on your guided tour. From March 2020, you can book online to secure your spot, highly advised especially in the summer season when 700 visitors only per day can enter into the passage. 
Knowth Neolithic Passage Tomb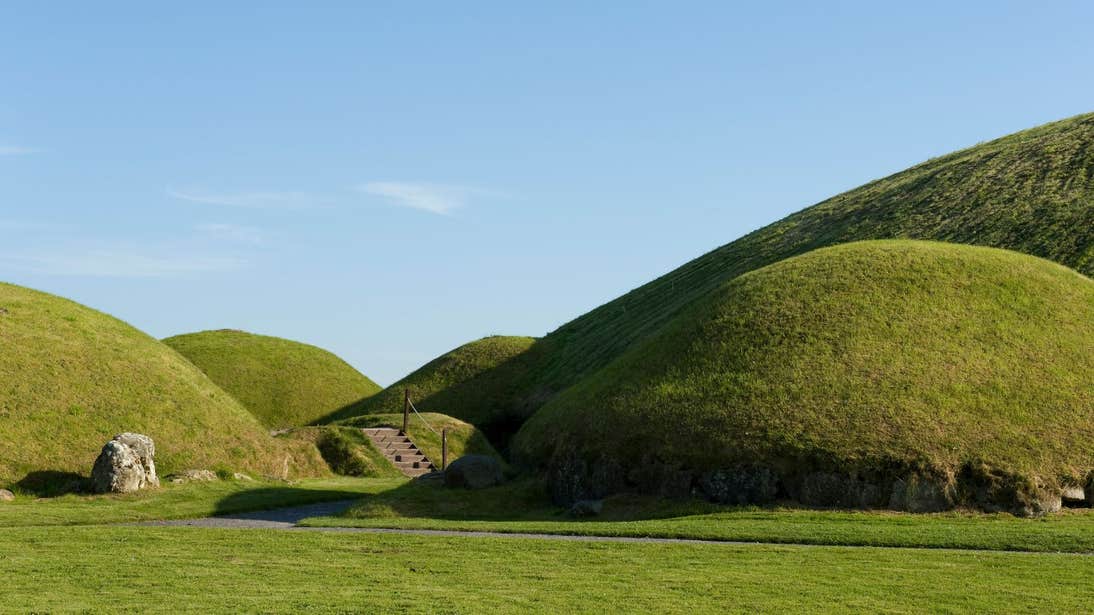 Access to Knowth, another Neolithic passage tomb a short hop away from Newgrange, was restricted until October 2019, so relatively speaking, not many people have been inside. Visits are now possible through the Visitor Centre tour.
Similar in size to Newgrange, but with two passages and one central chamber, it is thought Knowth may have been used to bury a small number of priests who were significant figures at the time. Lavishly decorated kerbstones mark the entrance, and the main burial mound is surrounded by 18 smaller satellite mounds, so there's plenty to explore here.
Less talked about than its winter-focussed cousin, Knowth's striking tunnel alignments seem to coincide with sunrise and sunset at the spring and autumn equinoxes. Just like Newgrange, it doesn't matter what time of the year you visit as the extraordinary prehistoric feat of architecture and engineering is the main attraction. 
Dowth Passage Tomb
A third, smaller passage tomb, Dowth completes the UNESCO World Heritage Site of Brú na Bóinne. It has two burial chambers and a ritual basin. Prehistoric drawings and an early Christian souterrain escape route complete the site, which is known as the 'fairy mound of darkness'.
The mound was damaged during an excavation in 1847, so the tomb is inaccessible, but you can soak up a real spiritual connection to this ancient site as you ramble around this usually peaceful place. Dowth is not part of the Brú na Bóinne Visitor Centre, so you can drive right up to it before or after your visit to the larger site.
With so much to see and explore in ancient Meath, Brú na Bóinne is an exciting place to start. Use our Meath destination page to plan a trip to all of Meath's ancient sites.