Start your visit in Galway City
Every trip to Galway is an adventure, and nobody likes adventuring on an empty stomach. So, Galway City is a perfect place to get your bearings and a bite to eat.
Galway Market
There's no shortage of charming cafés and fine restaurants in Galway City, but for some local flavour, we'd recommend Galway Market. This market in the city centre has been running every Saturday and Sunday for centuries. It's grown to include hundreds of stalls, including Indian, Japanese and local cuisine, baked goods and countless other delights.
You can get a fine takeaway meal or snack at Galway Market or, if you want to plan ahead, fill a picnic basket before exploring Galway and beyond.
The Latin Quarter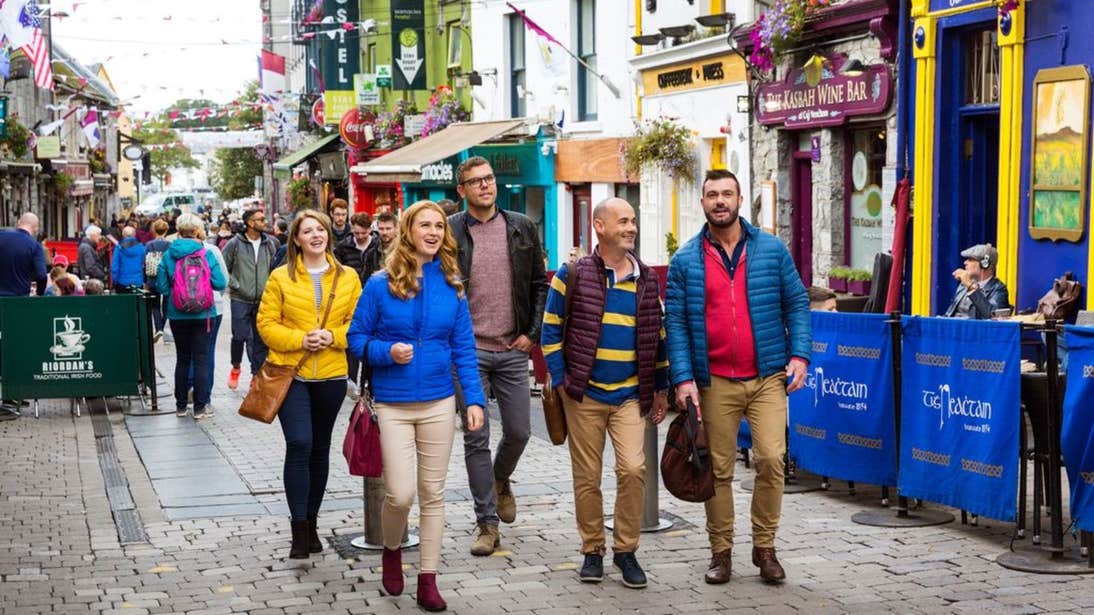 Less than five minutes walk away from Galway Market, you'll find Galway's Latin Quarter. Head south down Lombard Street and it's on your right… or ask a friendly local for directions.
The Latin Quarter is home to lots of unique shops and cosy pubs, but it also has that elusive quality that many cities don't have; it's a pleasure to just wander around. On these cobbled, pedestrian streets you'll see and hear the finest street performers in the land – from thrilling carnival acts to buskers on their first steps to stardom.
City of Culture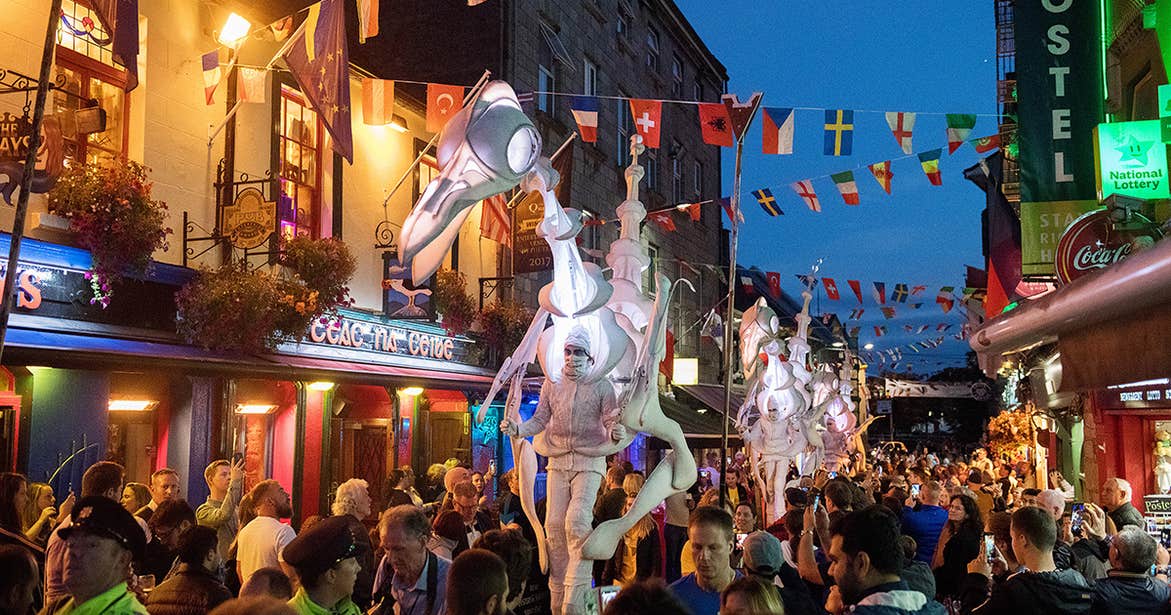 Galway City is steeped in history and every year hosts a programme of events and festivals that celebrates the cream of international and Irish culture. 
Galway City Museum
Behind the famous Spanish Arch, you'll find Galway City Museum, which looks at how the county's remarkable history shaped the region and indeed the nation. Across three floors and several exhibitions, you can trace the county's evolution from medieval times to more recent historical events.
Explore County Galway and Connemara
Galway's incredible landscape was forged over thousands of years, by glaciers, fierce Atlantic winds and waters. Make time to take in some of the world's most humbling views, landscapes and seascapes.
After a few days in Galway, leave the city and head to beaches, islands, heaths and boglands.
The Islands
The Aran Islands remain stubbornly, gloriously unchanged through the years, giving you the chance to escape modernity and experience majestic sea views. Board the ferry at Rossaveal, which is about 45 minutes west of Galway City, passing through Salthill and Spiddal, or fly from Connemara Airport to Inis Mór, Inis Meáin or Inis Oírr.
Highlights of the Aran Islands include Dún Aonghasa on Inis Mór. This is a prehistoric, cliff-side stone fort with an epic view of the Atlantic. You'll also find a visitor centre here, providing a fascinating historical context of the area. A trip to the Aran Islands is packed full with fun activities and things to do, read our ultimate guide and don't miss a thing on your next holiday.
The island of Inishbofin resonates with the sounds of music and storytelling. Some of the best food and trad music in Ireland are to be found on this proud island at the edge of the ocean. You might also hear a good yarn or two while you're there. The ferry ride is more than worth it, you can set sail from Cleggan, 10 minutes from Clifden, with Inishbofin Ferry.
Dog's Bay Beach
Glistening white sand is not the first thing you might associate with Irish beaches, but the sand on Dog's Bay is comprised of crushed seashells, giving it a unique hue. This beach, an appealing horseshoe shape and relatively unknown to outsiders, feels like an unclaimed treasure. Enjoy surfing or swimming anywhere on this mile of Atlantic coastline.
 After a dip or a stroll on the beach, head north along the coast and you'll get to Clifden.
Clifden and Connemara
The coast of Connemara is one of the most striking places in the country, and what better way to experience the landscape than on an outdoor adventure with Real Adventures Connemara. Enjoy stunning views on a guided kayak tour of the sheltered bays and coves around Clifden or leap from sea cliffs into the water below on a thrilling coasteering trip, hoisting yourself back up to do it all over again.
Known as the capital of Connemara, Clifden is a jumping-off point for plenty of the region's riches, with many highlights of a visit to the west within an hour of the seaside town.
Derrigimlagh Bog
With its beguiling bogland and a rugged landscape coated in soft moss and peat, Derrigimlagh has been captivating ramblers and visitors for thousands of years.
Take a relaxing stroll around the 5km long Derrigimlagh Loop Walk and discover the site of the first ever transatlantic flight that crash landed in the bog in 1919. The pilot's miraculous feat and survival is marked by a large, striking white obelisk that watches over the land around it. The flat walking loop works its way through the bog with The Twelve Pins in the distance and takes roughly two hours to complete.
Kylemore Abbey
Kylemore Abbey has a fascinating history. It was built in 1868 as a private home for Mitchell Henry, a London eye surgeon turned Galway politician, and his family. After the tragic death of Mitchell's wife, Kylemore was sold to the Duke and Duchess of Manchester, but in 1920 a group of Irish Benedictine nuns made it their home and still live there today.
People flock to Kylemore Abbey from far and wide to bask in the peaceful solitude: the main building is a magnificent structure, reflected beautifully in the water. You can take a fascinating tour of the abbey and its impressive interiors.
The real jewel, though, is the walled garden. This is an impeccably manicured Victorian Garden, where only flowers from that era are cultivated. Time seems to stand still in this magical place.
If all of this wandering through natural splendour makes you peckish, you might want to try Mitchell's Café in Kylemore Abbey. This celebrated restaurant serves homecooked food, prepared in traditional style, befitting such historic grounds.
Killary Fjord Shellfish
About an hour beyond Clifden, to the north, Killary, one of Ireland's only fjords is not just incredibly scenic, it's also a place where you can enjoy world-class seafood. The Atlantic is a rich source of fish, as you might expect, and local businesses like Killary Fjord Shellfish specialise in mouth-watering mussels, clams and oysters. You can also take a tour of this famous mussel farm.
Start planning your trip to Galway now
It's almost miraculous how much Galway manages to squeeze into one county, especially when you consider its miles of unblemished nature. A few days in Galway fills your soul with memories and your lungs with the freshest of air.
Check out our Galway destination page to find more incredible experiences and things to do in vibrant Galway.