1
Discover Cavan's geological and archaeological wonders
With five marked trails countless geological, archaeological, mythological, and cultural features, Cavan Burren Park is bound to excite adventurous children. Have a family picnic after exploring the great outdoors and spend time in their engaging visitor centre. Unwind in this unique landscape which has evolved through the Ice Age from a tropical sea to the parkland it is today.
2
Learn about the Legend of the Shannon
While in Cavan, visit the source of the majestic River Shannon, The Shannon Pot. The longest river in Ireland, kids love hearing about the story of this magical place which dates to ancient Irish mythological times. Legend has it, Síonnan, the daughter of Lodan (a son of the Celtic God of the Sea) came here in search of the great Salmon of Wisdom but angered it into overflowing the pool, creating the river. 
3
Build a cuddly teddy bear
Continue your Cavan holiday and make your way to Bear Essentials where your little ones get the chance to create their own unique teddy bear. See much-loved bears who have been admitted to the Teddy Bear Hospital and book into the traditional teddy bear making session. The nearby playground in the woods is great for the kids to get some fresh air too.
4
Enjoy oodles of water-based fun with the family
Travel to Cavan Adventure Centre for a jam-packed day out on the water. Led by local instructors, play canoe water polo, glide across the water in kayaks or plan an adventure to Erne Island Waterpark. Try something different and book in for a Biodiversity Tour which takes in the wildlife and habitats with a local expert and Geopark guide.
5
Cool as a Canoeist
Canoe with Adventure Gently in Leitrim as you journey down Ireland's wonderful waterways. Suitable for all ages and abilities, see the northwest's most beautiful landscapes from the comfort of your canoe. Keep your eyes peeled for kingfishers skirting across the water as you and your family paddle across gentle waters. 
6
Bring the kitchen outdoors
Bring your kids back to basics at the Organic Centre and find out how to build your very own cob pizza oven. Work as a team to mould lumps of earth, sand and straw into the classic dome oven and once you're done, reward yourselves with a delicious pizza cooked to perfection. 
7

Step onto Ireland's first floating boardwalk
For a peaceful walk with the kids in Leitrim, take the 600m of floating boardwalk at Acres Lake which has stunning natural scenery as its background. The Acres Lake Boardwalk connects to the Drumhauver Bridge loop walk and the Drumleague Lock loop walk and is a welcome break from the bustle of urban life. 
9
See the world from the treetops
Swing like Tarzan and fly down zip lines at the Zipit Lough Key Ltd in Roscommon. Let your mini adventurers cross rope bridges, climb giant walls and more on this family friendly experience. Feel the adrenaline pulsing through your body as you climb high up into the trees, ride a BMX bike across a suspended bridge and swing into cargo nets.
10
The best of Irish folk culture
With a 25-year-old collection of restored antiques and artefacts, the Derryglad Folk & Heritage Museum in Roscommon is like stepping into a marvellous time capsule. See horse-drawn machinery and tradesman's tools that encompass history, heritage, and folk culture. Capture your children's imaginations and travel back in time for a day. 
11

Explore untouched historical sites
The Rathcroghan Visitor Centre in Roscommon is part of the archaeological landscape of Cruachan Aí, the oldest and largest unexcavated royal site in Ireland. Climb to the top of Rathcroghan Mound and enjoy 360 degree views of the surrounding natural scenery.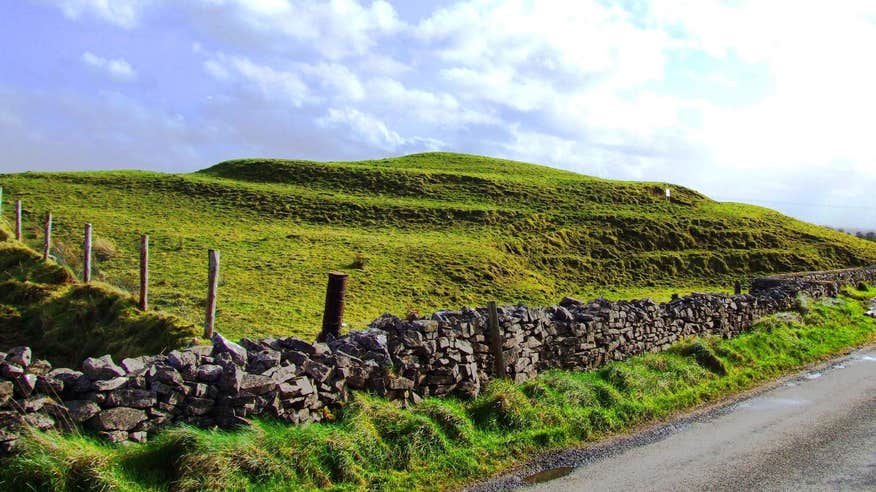 12
Step inside the heart of a mountain
Pop on your miner's hat in Roscommon and take a trip into the mountainside with Arigna Mining Experience one of Ireland's few coal mines. Go on an underground tour with a former coal miner and listen to vivid storytelling and real-life experiences. Pour over historical documents, photographs, and early mining equipment, tracing 400 years of mining history.


Bring the kids to Roscommon Castle, a ruined 13th century Norman castle that was once in the hands of the King of Connacht, Hugh O'Connor. The Castle can be explored adjacent to Loughnaneane Park and Playground, a 14-acre recreational area which includes a crannóg known as the Hill O' Bones, a wildflower meadow and bird walk. 


Go island hopping, fire off arrows, and cruise in kayaks at the Shannon River Adventure centre in Roscommon. Getting down and dirty with the mudslides is a family favourite activity as is the exhilarating pier jump into the water. 


Relive epic Iron Age history at the Corlea Trackway Visitor Centre in Longford. Marvel at the ancient trackway, the largest ever excavated in Europe, that was used thousands of years ago. Learn how people of times gone by lived through murals, displays and artefacts from that period and see the 18-metre stretch of the preserved trackway. 


Take a trip to Longford's Knights and Conquests Exhibition Centre and enjoy an interactive journey through time. Discover if you and your family were Gaels or Normans, get to grips with armour and try your hand at weapon training. Climb the 12th century Motte and appreciate commanding views across three provinces.  


Spend a fun-filled day out at Lough Boora Discovery Park in Offaly. Explore the park by bike, take a looped walk, go birdwatching and see the fascinating Sculpture Park. Kids can discover why the fairies came here on the magical fairy trail. Boora Lake is popular for feeding ducks and geese, try feeding them from a safe perch on the shoreline. 


Spread over 50 hectares, the gardens at Birr Castle Demesne are a haven for nature lovers, with plenty of wildlife, the tallest box hedges, a waterfall, and a collection of plants and flowers from all over the world. There is even a Giants Grove, the largest collection of giant redwoods outside of California. 
The castle, famous for the Great Leviathan telescope and interactive science centre, also has an interesting history dating back to Anglo Norman times. There is plenty to keep children occupied, including Ireland's largest treehouse, sand pits and climbing frames, plus a score of activities for amateur astronomers and little explorers at the Science Centre.
Experience the serene beauty of the River Shannon and breathtaking mountain scenery at the Mid Ireland Adventure & Slieve Bloom Mountain Bike Centre in Offaly. Enjoy lively outdoor adventures with the kids including SUP safaris, hiking and bike trips in Ireland's largest state-owned nature reserve.
Make your way to Galway's Portumna Forest Park and head out with the kids on the Woodland Walking Trail. Suitable for both buggies and small bikes, this quiet walk has a mix of wide timber boardwalk, forest road and a lovely duck pond for wildlife lovers. Hire a bike from nearby De Burgos and enjoy a peaceful cycle through the picturesque bike trails. 


Feast your eyes and taste buds on delicious artisan chocolate at Wilde Irish Chocolates in Clare. On the shores of Lough Derg, let your mini chocolate lovers pick their favourite flavours from tasty chocolate bars and caramel slices to mouth-watering fudge and rocky road. Feel like Charlie and the Chocolate Factory on a tour of their premises, watching the chocolate making process from start to finish. 


Head to the UL Sport Adventure Centre in Clare for exhilarating sessions including powerboating, windsurfing and group sailing. Join forces with the kids and tackle the art of orienteering and attempt to get a bullseye with your bow and arrow. For thrill seekers, consider mastering the high rope courses on this exciting day out with the family.