When's the best time to surf in Ireland?
Serious surfers looking for the best waves will say that winter is the best time for surfing in Ireland – with the big Atlantic swells rolling in creating big, powerful waves and super surf conditions from around November onwards. The trade off is shorter days and colder air and water temperatures, but you can stay toasty with a warm wetsuit – and a hot drink after your session.
Sea temperatures are warmest in autumn and coolest in spring. Summer surfing brings long warm days and gorgeous late sunset sessions, but with less wind, the sea is often flatter. For the beginner who doesn't need massive waves, it's easy to find suitable waves during the summer months. Choose a lighter wetsuit and have a cool drink after your session.
Whenever you go, check the surf forecast and tides in advance, ask local experts about rips, reefs and hazards, assess sea conditions on the day, and surf safely. 
The best spots for beginner surfers
Choose long, sandy beaches without rocks or reefs, where waves break gently over a good distance and conditions rarely get too wild. Ireland has plenty of beginner-friendly surfing beaches. Start with lessons at a local surf school as they will know the best places for beginners.
While surf conditions and wave heights vary by time of year (and sometimes by the hour), the following beaches usually have great conditions for those starting out.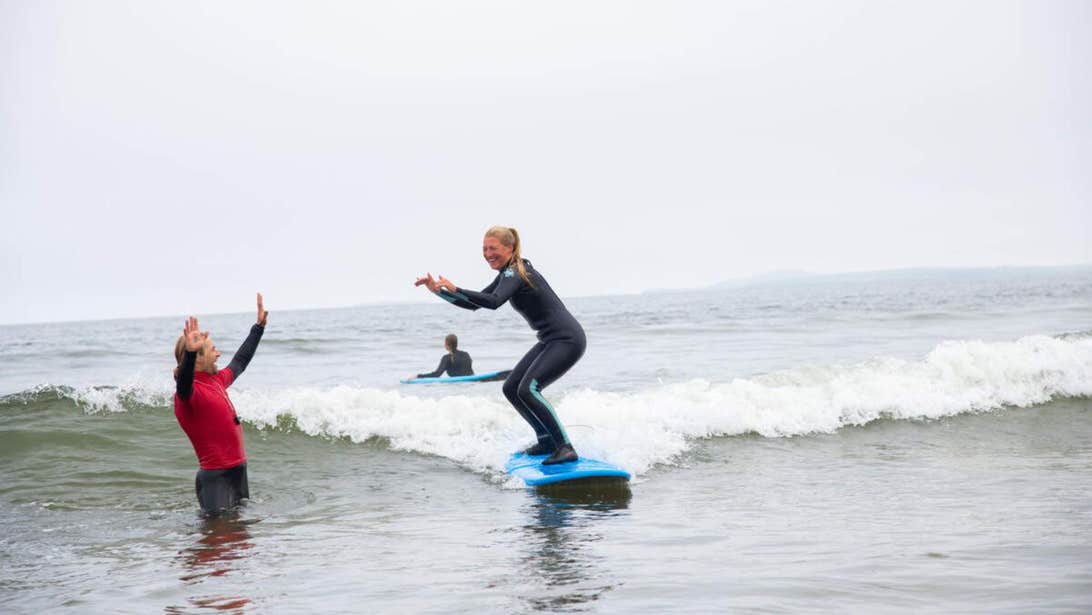 Book your first surfing lesson at Strandhill, enjoy views of Knocknarea mountain as you roll in on the waves and you'll soon find out why surfing in Sligo is so popular. Although there are consistent waves for all surfing levels, this is an ideal spot for beginners.
Sign up for a lesson at Strandhill Surf School beside the beach, take lessons or join a Women's Surf Session at Rebelle Surf School, or book in with Strandhill Surf Experience for tuition and kids camps. Afterwards, soak up the relaxed surfing vibe in the seafront town.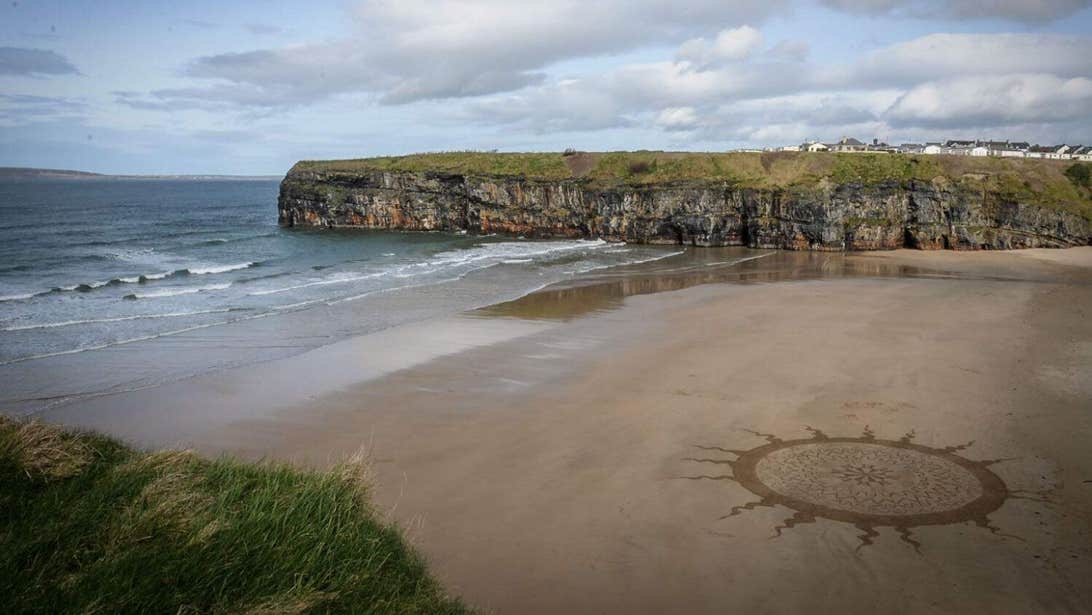 Have fun in the Atlantic waves along the glorious blue-flag beaches at Ballybunion, where beginners have ample space to practice. Take in views of cliffs and a castle as you roll in on the waves at Ballybunion South (Mens Beach) or surf from the golden sands backed by dunes at Ballybunion North (Ladies Beach). Check out lessons and rentals on South Beach with Ballybunion Surf and enjoy refreshments at the beach café afterwards.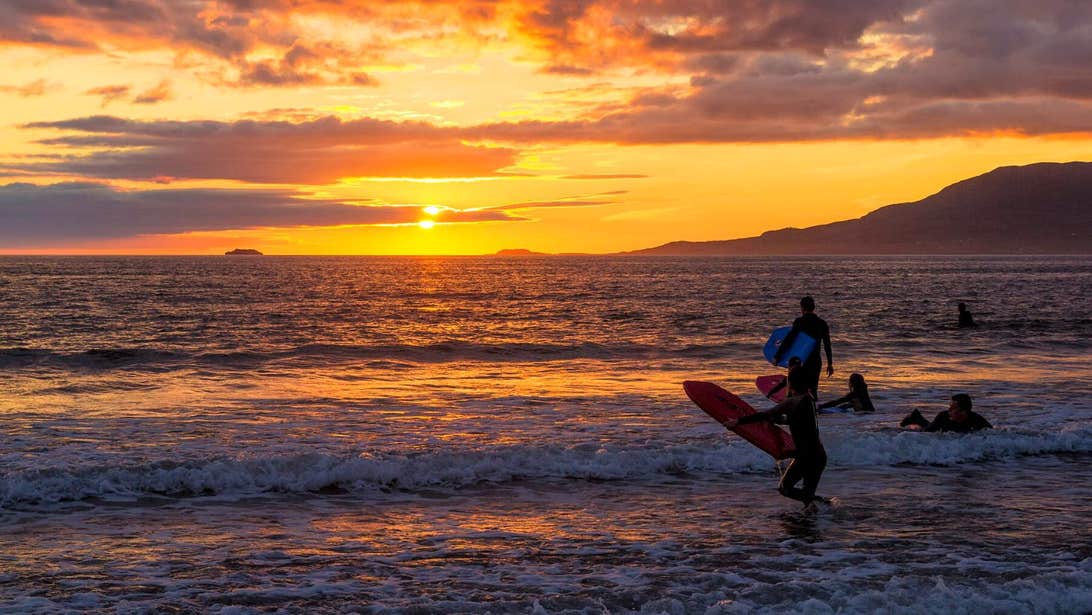 Take to the waves on the beautiful Carrownisky Strand at Louisburgh, Co Mayo, which has a consistent surf break – you will usually find surf there year round, and you might be sharing the beach with swimmers, walkers and horses. Book lessons, family surf camps or board hire with SurfMayo, who also provide expert knowledge on local conditions.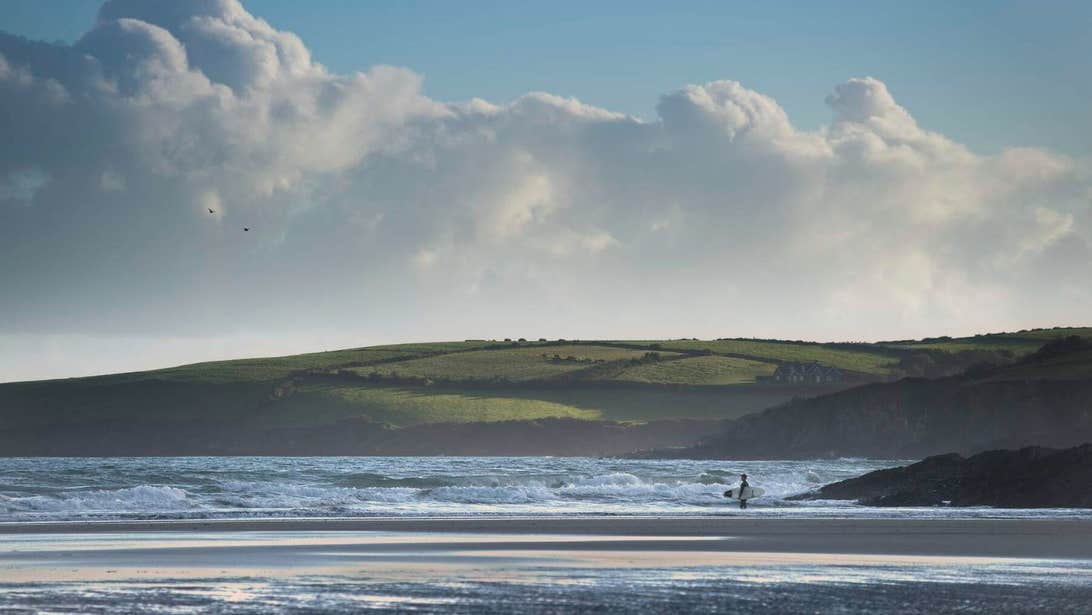 You'll sometimes find some small waves on the long, south-facing beach at Inchydoney near Clonakilty, where the river break is ideal for accompanied beginners and doesn't attract big crowds. Book lessons with Inchydoney Surf School, who can advise on the best times to visit.
Best spots for intermediate and advanced surfers
If you're comfortable on a board and looking for bigger waves, explore Ireland's best beaches for more advanced surfers. Ask locals or surf schools about local conditions and always follow surf etiquette.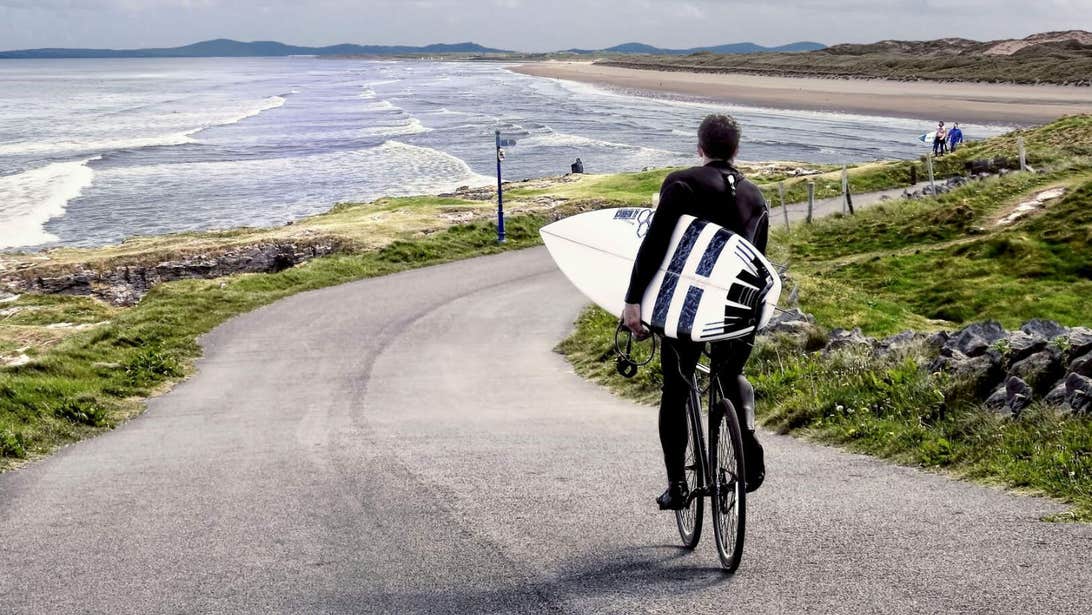 Perfect your technique at Tullan Strand at Bundoran in Co. Donegal, a long sandy beach where waves roll in gently and have plenty of space to break, all with the backdrop of the Dartry Mountains. You'll find waves of different sizes along the beach.
Book an intermediate lesson with Bundoran Surf Co and they will provide everything from boards and wetsuits to transport, plus a surf shop to stock up in. Or arrange a lesson or rental from Murf's Surf School, overlooking Tullan Strand.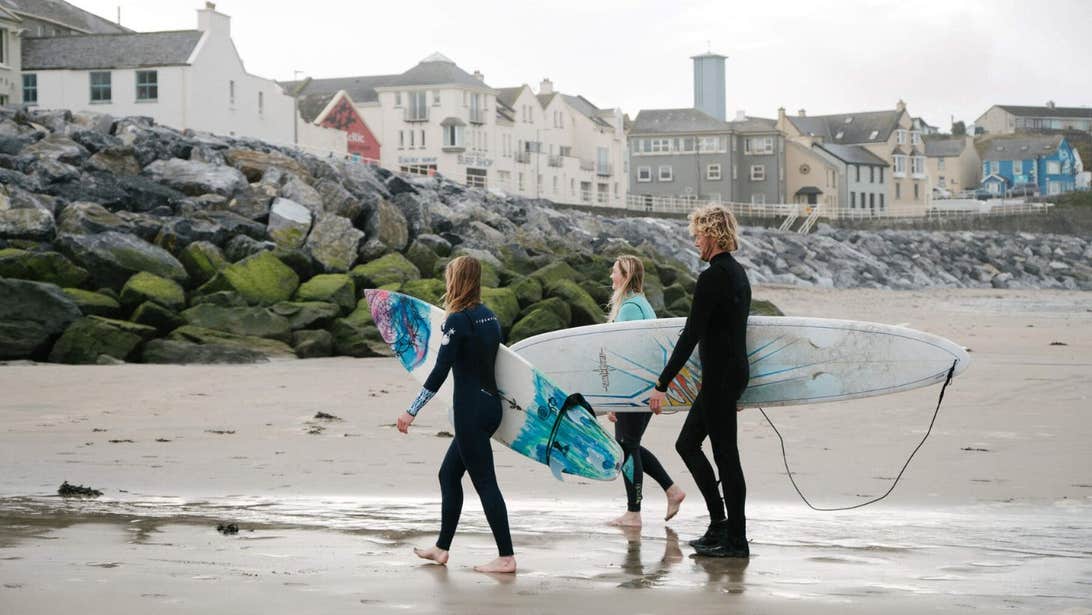 Enjoy surfing on a long golden beach right beside Lahinch town. You'll find plenty of space and there's usually some swell even when conditions are flat elsewhere. Surf here at low to mid tide (avoid high tide due to rocks near the shore).
Rent a board or improve your technique with some advanced coaching at Lahinch Surf School or drop into Lahinch Surf Experience on the promenade for rentals and lessons. Build your skills with a progression lesson at Ollie's Lahinch Surf Centre or book coaching or a weekend course with Ben's Surf Clinic.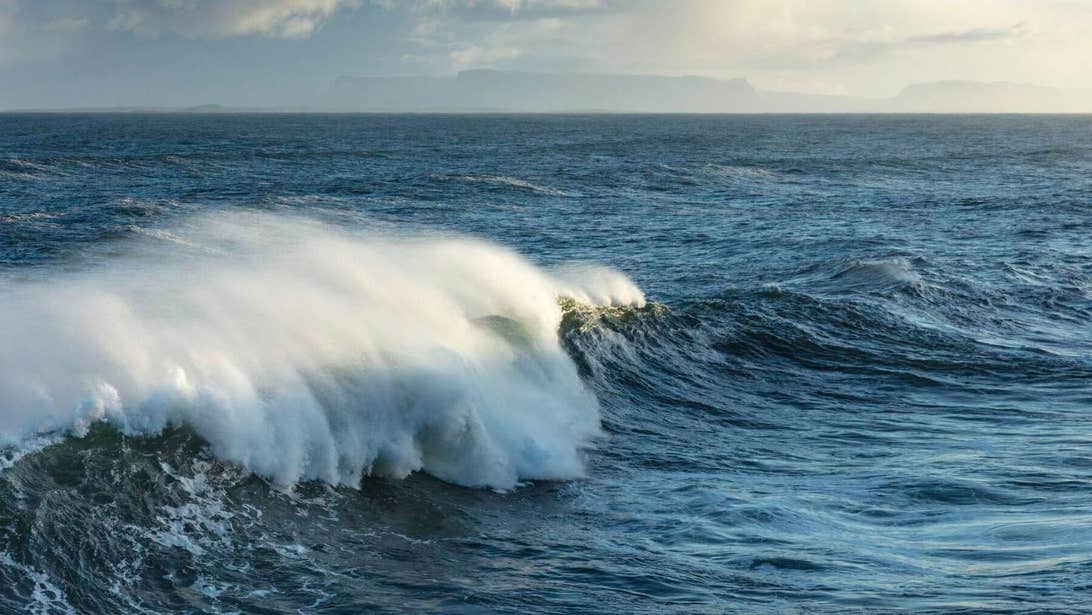 Test intermediate and advanced surfing skills at Easkey in the west of Sligo, a scenic spot with two long reef breaks (where waves break over rocks rather than sand). Challenge yourself in the location that once hosted the Surfing World Championships, and enjoy the best surf here in south-westerly winds.
Watch the pros in action at Mullaghmore Head in Sligo, which brings in the big-wave surfers at expert level. See them tackle waves which can reach up to 40 feet – they are towed in with jet skis and often have rescue to hand – from the safety of a lookout point, where you can catch the action and get inspiration for your own surfing.
Surfing spots perfect for everyone
There's a spread of beaches across the country that are just as suited to beginners as they are to the pros. These are some of the best all-round beaches for surfing in Ireland.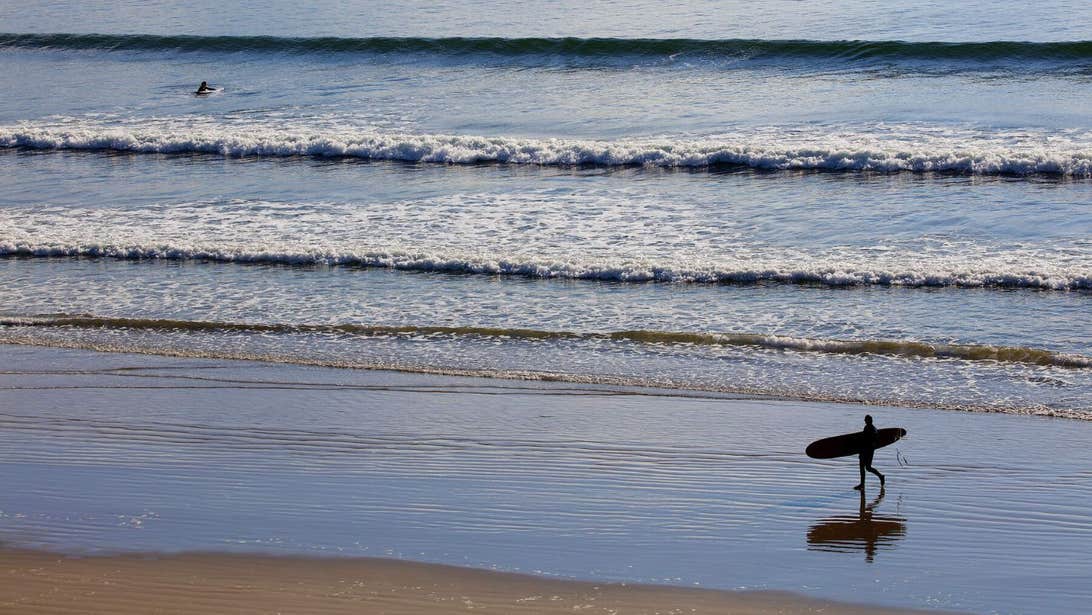 Get up close with the waves of the Kingdom at Inch Strand, a 3km-long blue flag beach stretching out into Dingle Bay. Soak up the surrounding scenery of the mountains as you tackle the waves, whether you're at beginner or intermediate level. Book in for a lesson, weekend course or board rental with Kingdom Waves Surf School or Offshore Surf School.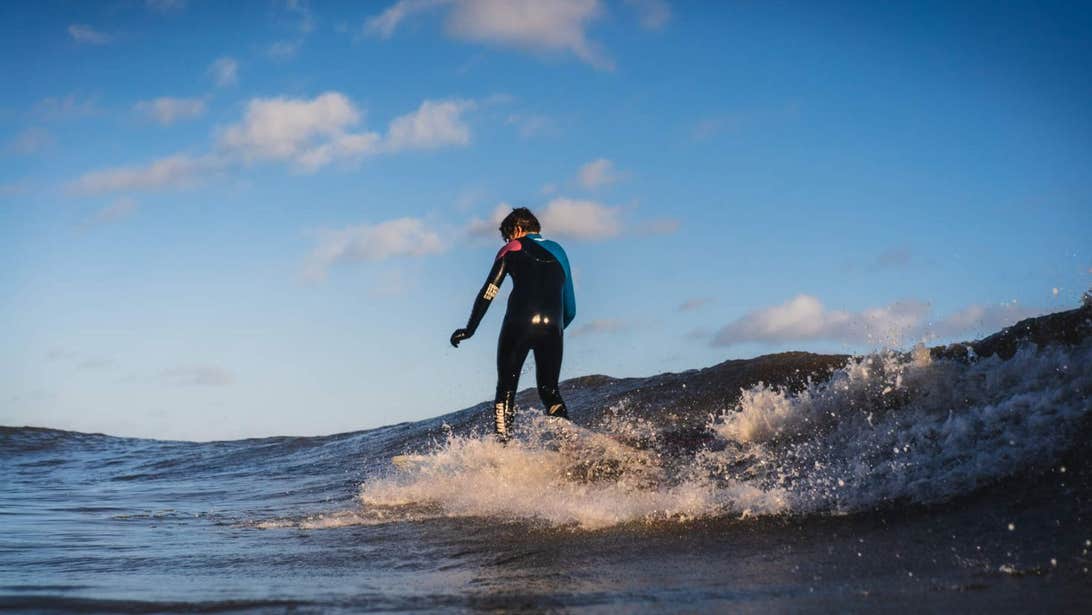 Enjoy all the thrill of the waves in the sunny south east at Tramore, a family-friendly spot where intermediate and advanced surfers will find peaks to suit their level. Take lessons to learn all about the local rips and conditions with Tramore Surf School – or if you're at intermediate level, rent a board and stock up on kit from Tramore Surf Shop.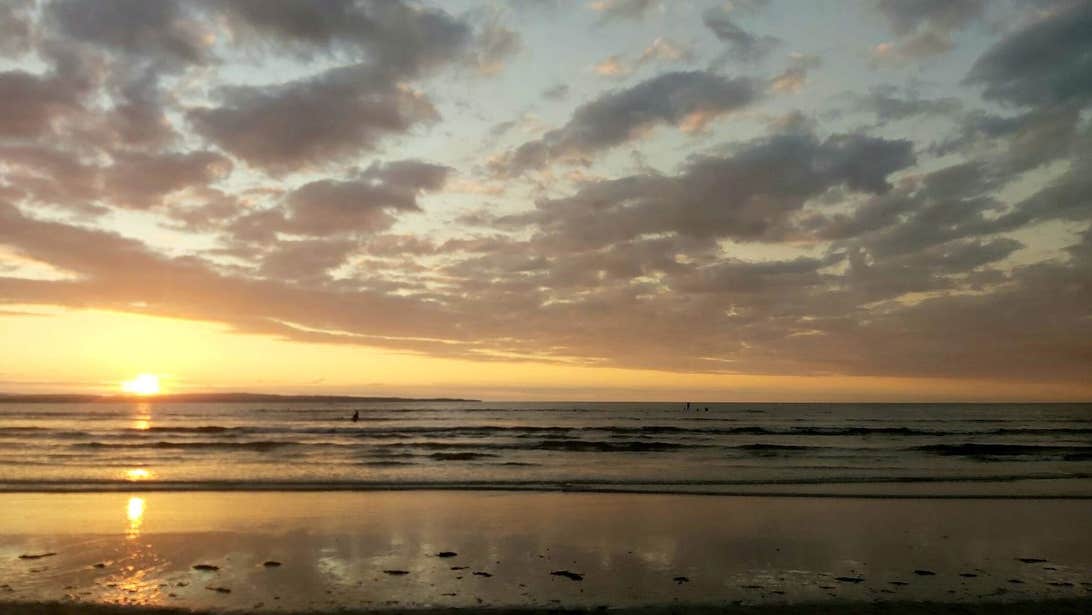 Enjoy a relaxed surf session on the 5km-long beach in front of the town of Enniscrone in Sligo. Find the easiest waves closer to the harbour if you're a beginner, or look larger peaks further along the strand if you're experienced. Check with North West Surf School for lessons, rentals and surf camps for kids and for parents, or sign up for lessons or board hire with 7th Wave Surf School.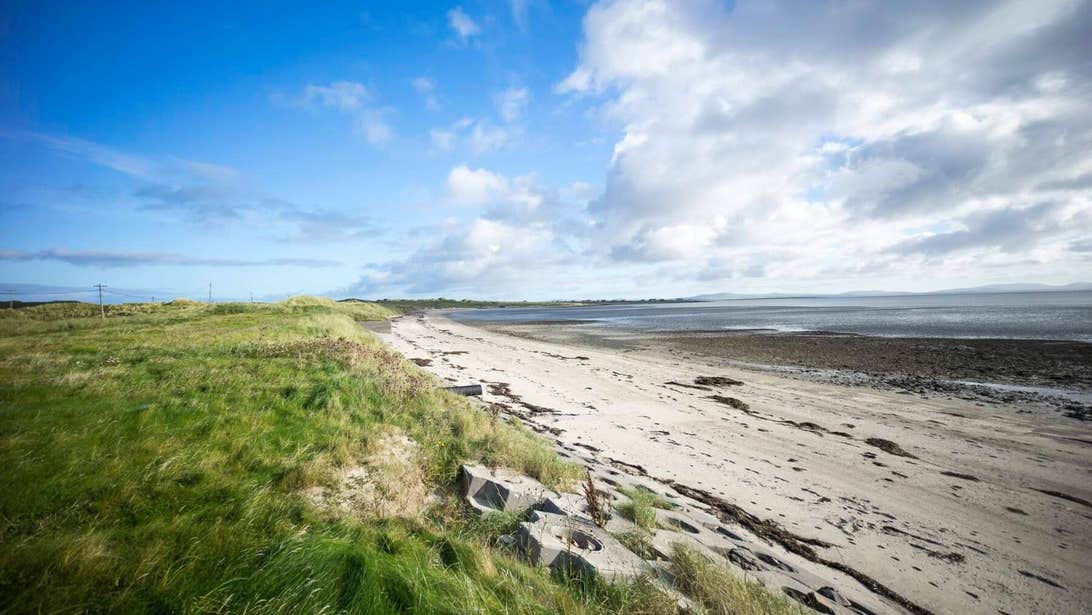 Experience the power of the Wild Atlantic Way and enjoy uncrowded beaches, clear waters and the rugged coastal scenery on the Mullet Peninsula in West Mayo, with long sandy beaches like Elly Bay or Belderra Strand. Improve your surfing with beginner or advanced lessons from Tonn Nua Surf School, which also hires out boards and might teach you some surf terms 'as Gaeilge' too.