Town and country
Sligo Town
The lively port town of Sligo is awash with great restaurants and traditional pubs, overflowing with charm and music. As you explore the narrow, colourful streets, you'll find The Model - one of Ireland's most prominent contemporary art centres, housed in a former school built in the 1800s. Grab a coffee at the café and check out the ever-present Niland Collection as well as temporary exhibitions showcasing music and contemporary art from creators from all over the world.
Afterwards, take a short walk across The Garavogue river into Sligo Abbey. Built in 1252 and destroyed less than 200 years later, The Abbey, as it's locally known still has original Gothic carvings and even a tomb sculpture from the Renaissance. Listen out for the chiming of the silver bell during your tour. Legend says it was thrown into Lough Gill and that only those who live sin-free lives can hear it ring.
Seatrails Tours
On the edge of town, you'll find Seatrails, a company that offers guided walks along the Wild Atlantic Way. Join head guide and archaeologist Auriel Robinson on the Moytura Mythology Trail to explore the area's impressive megalithic monuments and the site of the mythological battle between the Tuath dé Danann and the Firbolgs.

For those interested in great heights, there are mountain hikes over Benbulben or the lesser-known, but equally beautiful, Bricklieve Mountains. 
Yeats' Grave
Sligo was home to Ireland's most famed bard and you can get a true insight into the life of William Butler Yeats on your visit. Start your trip at Lissadell House on the shores of Sligo Bay, exploring the grounds of the restored estate that played an important part in the lives of Yeats, Countess Markievicz and other Irish greats.
Just a short spin away at Drumcliffe Church, the final resting place of Yeats lies in the shadows of Benbulben. Surrounded by mature trees and the sloping foothills of Sligo's iconic mountain, you'll find his tombstone emblazoned with the famous epitaph: "Cast a cold eye on life, on death, horseman, pass by."
Strandhill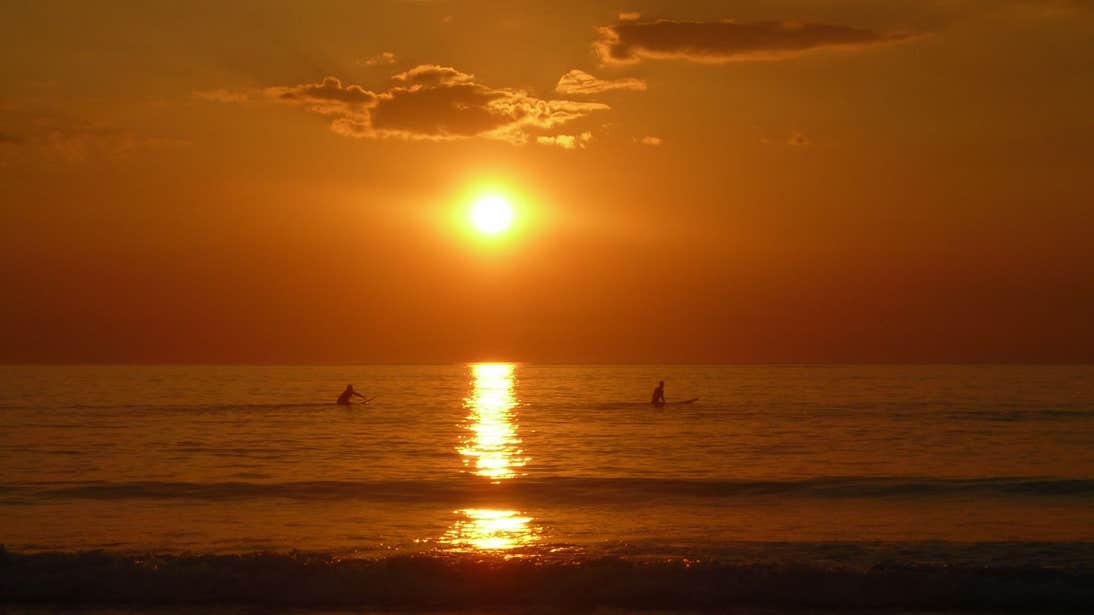 No visit to Sligo is complete without a visit to the surfing mecca of Strandhill, just a short 10-minute drive from town. The beach is the star attraction here, with people travelling from all over the world to experience it. Enjoy a leisurely stroll along the strand to work up an appetite for dinner or settle into the dunes to watch the sunset.
If you fancy trying your hand at surfing, book in with Sligo Surf Experience. Summer is the perfect time for beginners to learn, while experienced surfers often wait for the big winter waves to roll in.
Later, recover and rejuvenate with a therapeutic Voya Seaweed Bath. Sink into a cast iron Victorian tub of locally hand-harvested seaweed and warm seawater and let the natural oils soothe your body – heaven.
There's no end to the amount of fun things to do in Strandhill, check out our detailed guide on this fantastic seaside town and get the most from your holiday.
If you have time in Sligo
Take the short drive from Strandhill to Knocknarea Mountain and hike Queen Maeve's Trail for epic panoramas of the area. The achievable, 40-minute hike on a paved trail brings you to the hilltop cairn of Queen Maeve of Connaught. Hiking shoes are recommended, as the trail can get slippery in wet conditions. Once you reach the top you'll be surrounded by views on all sides of the Atlantic Ocean, County Sligo and beyond.
Explore Knocknarea Mountain on your own or head up with the experts at High Hopes Hiking for their guidance and navigation. Want to do more than hike? Book in with Northwest Adventure Tours for some excitement by foot, bike or sea in Sligo. 
While you're in Sligo
Take a trip back in time to the Caves of Keash in Ballymote, about half an hour from Sligo town. The collection of 16 caves appear to be cut out of the hillside, contrasting the white limestone face, enticing you to explore every nook and cranny.
Once home to early man, the caves are the subject of local folklore. Legend has it that Ireland's most famous high king, Cormac Mac Airt, was born at a nearby well. While his mother slept, he was stolen by wolves and raised in the caves.
Discover more of Sligo
Whether you're after adrenaline-filled days, cultural encounters or a mix of both, Sligo has plenty to entice you west for a short break. Have a look at our Sligo destination page and discover more of the beautiful beaches, historical sites and delicious food to experience in glorious Yeats Country.